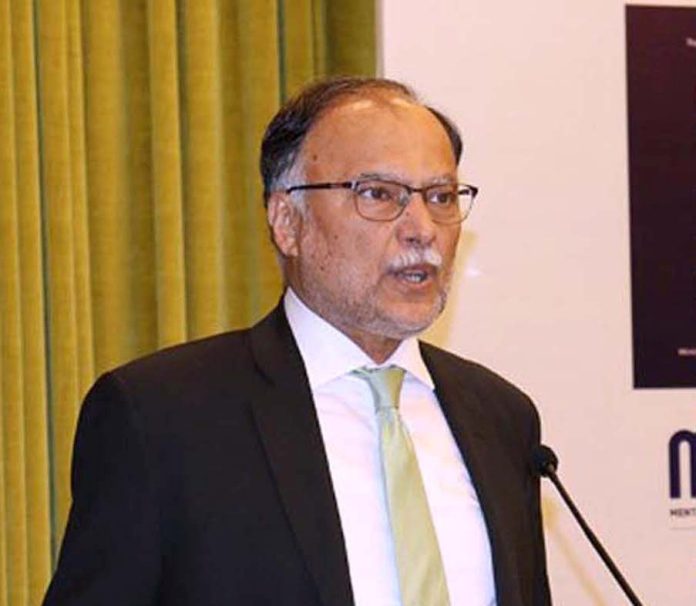 Islamabad. November 25 (APP): The Ministry of Planning, Development and Special Measures has started a 16-day campaign against violence against women, while a gender unit has also been established in the ministry. The 16-day campaign against violence against women was formally launched by Federal Minister for Planning Ahsan Iqbal in a ceremony on Friday.
This event was organized on the occasion of the International Day for the Elimination of Violence against Women. Chairperson of National Commission on Status of Women (NCSW) Nilofar Bakhtiar, Executive Director Higher Education Commission HEC, Dr. Shaista Sohail attended the event. , Assistant Superintendent of Police ASP Amina Baig, students and civil society persons participated.
Speaking on this occasion, the Federal Minister said that the development process of any country remains slow if women are not provided with equal opportunities and unfortunately the participation of women in the development process of Pakistan is weak. Therefore, this gender unit has been established to ensure the process of economic development of women.
The campaign will be run till December 10 in educational institutions of Rawalpindi and Islamabad with the support of Federal Investigation Authority (FIA) while the Young Development Fellows (YDF) associated with the Ministry will organize this program to create awareness among the people. will start visiting educational institutions to conduct FIA representatives will give a presentation on cybercrime laws and policies.
Speaking on the occasion, the Federal Minister further said that our religion of Islam has given ideal rights to women and empowered women with the most progressive rights after the 7th century, but unfortunately their rights were misinterpreted. The federal minister said that the gender unit is a great step towards inclusion of women in development and it is the first unit in the history of Pakistan which will help empower women in all matters.
He further said that when Islam gave inheritance rights to women, there was no concept of inheritance rights for women in the West. On this occasion, Secretary of Ministry of Planning Syed Zafar Ali Shah said that this campaign will help women. It will help in creating awareness among the people to end the incidents of violence against. He said that the government is committed to empower the women of the country and the gender unit is an example of women empowerment.