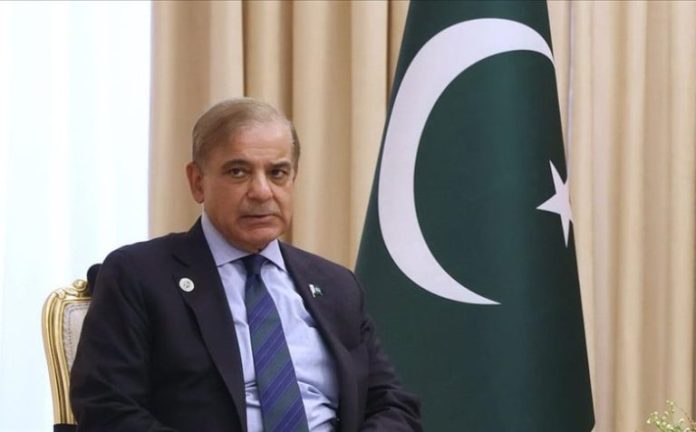 Islamabad. April 24 (APP): Prime Minister Muhammad Shahbaz Sharif has thanked the leadership of Saudi Arabia, Turkey and Egypt for helping the Pakistanis evacuate from Sudan.
According to a statement issued by the media wing of the Prime Minister's Office on Monday, the Prime Minister congratulated Foreign Minister Bilawal Bhutto Zardari, Minister of State Hanarbani Khar, officials of the Ministry of Foreign Affairs and the Pakistani Ambassador to Sudan. The Prime Minister praised the military authorities and all concerned officials for their commitment, preparation of the comprehensive evacuation strategy with great skill and its successful implementation. Tribute to General Nadeem Anjum for his special efforts.
Pakistani embassies in friendly countries and the region are helping Pakistanis to return home, the plan for the safe return of Pakistanis from war-torn Sudan has been successful. Prime Minister Shehbaz Sharif himself was directly supervising the special emergency plan that had been going on for 72 hours. 427 Pakistanis have safely reached Port Sudan from where they will reach Pakistan, the accommodation and food of these 427 Pakistanis have also been arranged by the Government of Pakistan. The statement further said that continuous efforts for 72 hours have paid off, the return of Pakistanis from war-torn Sudan by special planes has started.
Due to the war in Sudan, Pakistanis were facing difficulties and dangers. The Government of Pakistan has determined safe routes for the evacuation of Pakistanis. Pakistanis are being transported to safe places from Khartoum in the form of small groups, the brotherly countries of Saudi Arabia, Turkey and Egypt have provided special support in the evacuation of Pakistanis, on which Prime Minister Shahbaz Sharif directed the leadership of Saudi Arabia, Turkey and Egypt. Thank you. Continuous monitoring of measures related to the safety and security of Pakistanis trapped in Sudan was ongoing. The Pakistani Embassy in Sudan is in constant contact with the stranded Pakistanis, the Pakistani Embassy in Sudan has a helpline that can be contacted.
The news is published by EMEA Tribune & Associated Press of Pakistan