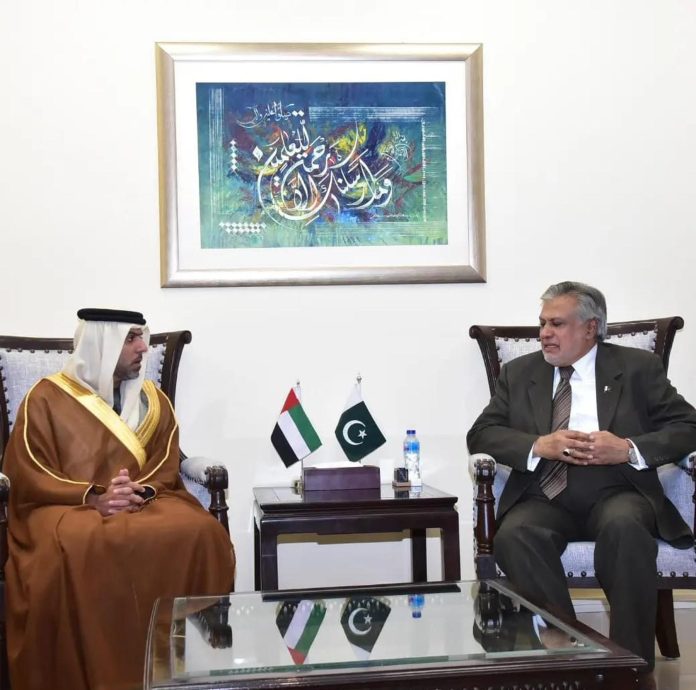 ISLAMABAD – December 1 (APP): Federal Minister for Finance and Revenue, Senator Muhammad Ishaq Dar, has welcomed the proposal of new investment in Pakistan by the United Arab Emirates, saying that the government has created a favorable environment for foreign investment for sustainable economy and economic growth. Providing, UAE investors will be fully supported by the government.
He said this in a meeting with Hamad Obaid Ibrahim Saleem Al Zabi, Ambassador of the United Arab Emirates to Pakistan here on Thursday. In the meeting, light was shed on the historical and long-standing relations between the two countries and ways to further promote and strengthen mutual economic relations. Discussed about.
The finance minister said that relations between Pakistan and the United Arab Emirates in various sectors including energy, refinery, petroleum and trade have been established, but there is still a wide potential in terms of bilateral economic cooperation. Both countries can trade and invest.
The Finance Minister referred to his recent visit to the UAE and productive meetings with the management of the Abu Dhabi Holding Company and the International Holding Company. and has expressed interest in investing in other sectors.
The UAE ambassador said that the UAE is fully aware of the economic policies adopted by the current government for the development of the country. He said that the UAE is keen to increase its investment in new sectors of the economy in Pakistan. Is interested.
The Finance Minister welcomed the UAE's proposal for new investment in Pakistan and assured the UAE Ambassador of full cooperation from the present government in this regard. The Finance Minister expressed his gratitude for the goodwill and cooperation and hoped to further develop bilateral relations in the future.