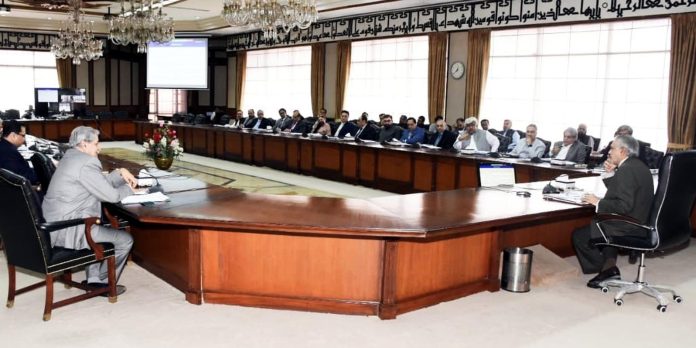 Islamabad. April 6 (APP): The meeting of the management committee of the National Economic Council (ECNC) was held on Thursday under the chairmanship of the Minister of Finance and Revenue Senator Muhammad Ishaq Dar. Federal Minister Syed Naveed Qamar, Special Assistant Tariq Mehmood Pasha, Federal Secretaries and other senior officers were present in the meeting. and representatives of provincial departments participated. In addition, Balochistan Planning Minister Noor Muhammad Damar, Punjab Industries Minister Ahsan Tanveer, and Khyber Pakhtunkhwa Chief Minister's Adviser Humayatullah Khan participated in the meeting through Zoom.
Eknik has approved the funds of 11 billion 37 crore 73 lakh 28 thousand rupees for the construction of 4-lane highway on N55 Rajanpur Dera Ghazi Khan section for the payment to the land owners and for making the Dera Ghazi Khan Dera Ismail Khan road two lanes. It will be completed with resources. In the meeting, funds of 19 billion 57 crore 10 lakh 92 thousand rupees were approved for the construction of 115 kilometers long Tarbat Mand Road from M8 Motorway to the border of Iran. In the meeting 27 billion 63 crore 87 lakh 51 The project to construct Panjgur Ghachak Awaran Road at a cost of Rs.
In the meeting, 1236.10 billion rupees were approved for the project of electricity production facilities under the Diamer Bhasha Dam project, which includes foreign assistance of 5 trillion 98 billion 19 million rupees. In the meeting, 17 billion 47 billion rupees were allocated for the digital economy enhancement project. In the meeting, the Planning Commission presented a summary of the agenda of the 31st meeting of the Steering Committee for the SDGs Achievement Program.
The news is published by EMEA Tribune & Associated Press of Pakistan