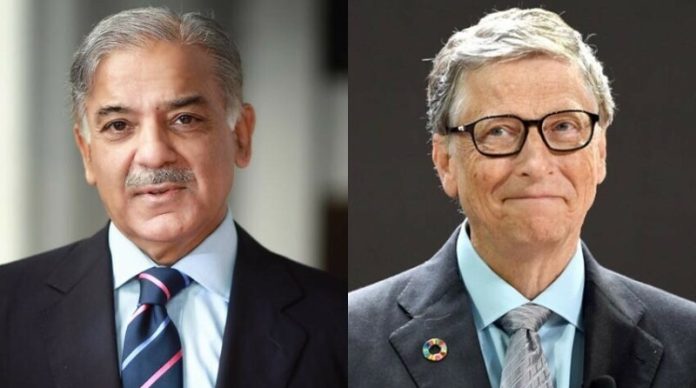 Islamabad. December 13 (APP): Prime Minister Muhammad Shahbaz Sharif and Bill Gates, Co-Chairman of Bill & Melinda Gates Foundation (BMGF) have agreed to continue working together in areas of common goals and mutual cooperation. According to the statement issued by the Prime Minister's Media Office on Tuesday, there was a telephone conversation between Prime Minister Shehbaz Sharif and Bill Gates. He discussed the ongoing public health and social sector programs in Pakistan with the support of Bill & Melinda Gates Foundation.
The Prime Minister appreciated the valuable contribution of BMGF to Pakistan in eradicating polio in the country and improving immunization, nutrition and financial inclusion. He also reiterated Pakistan's desire to further strengthen the fruitful partnership with the Foundation in all ongoing areas of cooperation.
The Prime Minister said that his government is committed to eradicating all forms of polio in the country. Expressing concern over new cases of polio cases being reported in Pakistan in 2022, he said that there has been a hiatus in polio cases since September 2022. The recent floods, which have severely affected ongoing polio vaccination efforts due to mass displacement and destruction of health care infrastructure, the Prime Minister reiterated that the government has a special emergency response plan. is actively being implemented.
Bill Gates deeply regretted the loss of lives in the recent floods in Pakistan. He also acknowledged Pakistan's efforts to eradicate polio and reiterated his foundation's continued support for Pakistan to ensure that no child is at risk of paralysis due to the polio virus.
Various other government-led programs aimed at combating malnutrition and stunting, essential immunization services, micropayment gateway RAAST, and National Savings Program were also discussed with the support of BMGF. To be digitized.
The Prime Minister and Bill Gates agreed to continue working together on common goals and areas of mutual cooperation.