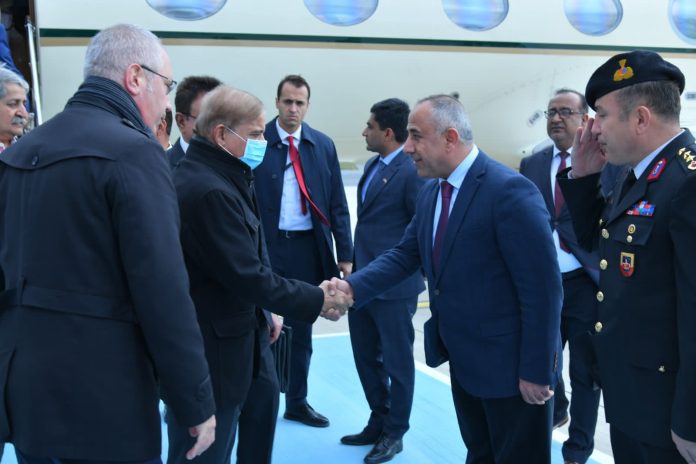 Istanbul. November 25 (APP): Prime Minister Muhammad Shahbaz Sharif arrived in Turkey on Friday on a two-day official visit. Deputy Governor of Istanbul Mahmud Harsanli Olu, senior Turkish civil and military officials, Pakistani embassy officials met the Prime Minister at Istanbul International Airport. welcomed
The Prime Minister is visiting on the invitation of Turkish President Recep Tayyip Erdoğan, a high-level delegation is also accompanying the Prime Minister. During the visit, Prime Minister Mohammad Shahbaz Sharif and President Erdoğan will inaugurate PNS Khyber, the third of the four corvettes for Pakistan Navy at Istanbul Shipyard.
The joint project based on joint cooperation between the two countries is an important milestone in the Pakistan-Turkey strategic partnership.
Earlier, the launching ceremony of the first corvette 'PNS Babar' for the Pakistan Navy was held in Istanbul in August 2021, while the foundation stone for the construction of the second ship 'PNS Badr' was laid in Karachi in May 2022.
Later, the two leaders will discuss bilateral relations, regional situation and issues of common interest, and will address a joint press conference. The Prime Minister will also meet the delegation of Turkish business community and President of ECO Trade and Development Bank (ETDB).