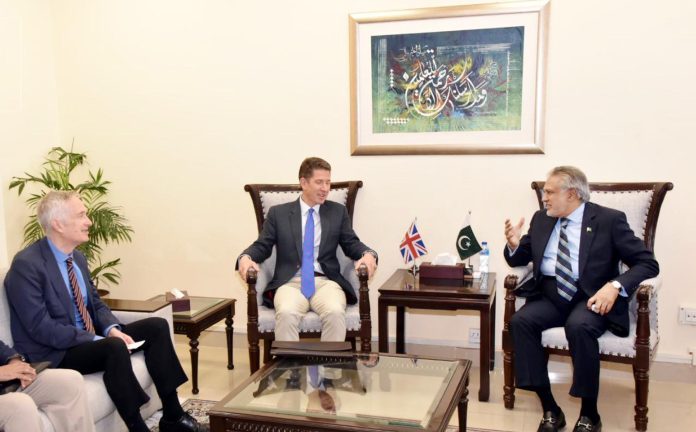 Islamabad – December 6 (APP): British High Commissioner Dr. Christian Turner met Federal Minister of Finance and Revenue Senator Muhammad Ishaq Dar along with UNDP consultant Sir Michael Barber at Finance Division on Tuesday. Special Assistant on Finance Tariq Bajwa, Secretary Finance and other senior officers of Finance Division were also present. The Finance Minister extended a warm welcome to British High Commissioner and UNDP Consultant Sir Michael Barber and informed him about the overall economic situation of the country.
He was told that Pakistan is meeting its external financial obligations and recently Pakistan has paid off $1 billion worth of bonds. The Finance Minister also informed about the ongoing reconstruction and rehabilitation program after the floods and said that the overall reconstruction and rehabilitation phase will continue for 5-7 financial years. It was also stated that the present government has a comprehensive and prudent program of revenue and expenditure to meet its national and international financial obligations.
The finance minister also informed about the measures and policies taken by the present government to protect the weaker sections of the society and said that the aim of the present government is to ensure economic and financial stability which leads to economic recovery and development. will Other matters of common interest were also discussed in the meeting. Appreciating the practical steps taken by the current government, the High Commissioner offered all possible help to the people of Pakistan to reduce the socio-economic impact of the British government after the floods. But thanked the British High Commissioner.