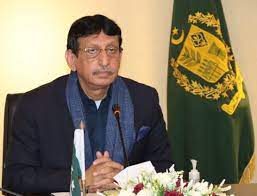 Islamabad, November 24 (APP): Federal Minister of IT and Telecommunication Syed Aminul Haq was met by the officers of the Mid-Career Management Course in his office on Thursday. Gained awareness regarding working, launching of 5G technology and IT exports.
The Federal Minister of IT said that he is determined to launch 5G next year, steps are being taken to increase IT exports. Be a supporter and helper for the ministry in growth.
He said that the Ministry of IT is following the policy of zero tolerance against merit, transparency and corruption. The officers included Arsa Bilal, Salman Khan, Yawar Abbas and Mehreen Maqsood.