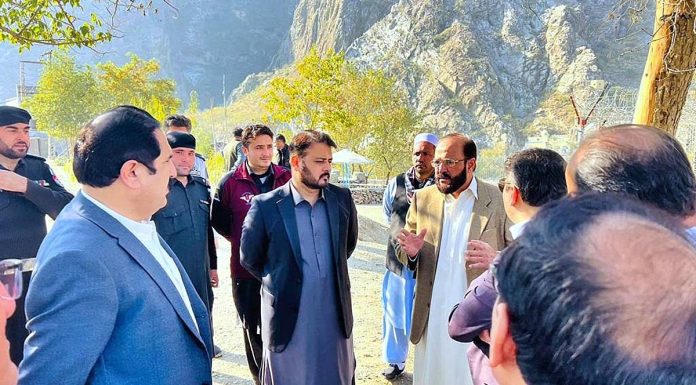 ISLAMABAD – December 7 (APP): Federal Minister for Overseas Pakistanis and Human Resource Development Sajid Hussain Turi on Wednesday visited Pakistan-Afghanistan border Torkham, Khyber district where he discussed various aspects related to imports, exports, trade opportunities, border. A briefing was given on the issues and situation. Officials of FIA, ANF, NLC, FIA, NADRA, FC, Customs and Border Management attended the meeting. MPA Bilawal Afridi was also accompanied by the Federal Minister.
The Minister was also briefed on humanitarian relief to the Afghans, which is being provided at the border to the Afghan brothers and sisters coming to Pakistan. Federal Minister Sajid Hussain Tori said that Pakistan is always looking for lasting peace in the region to promote trade and stability and is trying to facilitate cross-border trade, promote economic activities so that the quality of people on both sides of the border is improved. Life can be elevated which is in the interest of both countries.
He said that complete facilities should be provided to Afghan patients coming for treatment and polio drops should be given to children. The minister advised the authorities to provide maximum opportunities for cross-border trade and employment to the local population. The Minister urged the authorities to take measures for the welfare of loading and uploading workers at the border and all workers will be registered with the Employees Old Age Benefit Institution, Workers Welfare Fund and Workers Welfare Board so that they They can get all privileges and provide better health and education facilities to their children.
Sajid Tori said that his ministry is making efforts to provide the best facilities and welfare to the laborers of the newly merged districts (former FATA). Federal Minister Sajid Hussain Tori held an open court in Jamrud in which he listened to the problems of local elders, political leadership, representatives of industrial and trade unions and assured that he would take up their grievances with the Prime Minister, his party chairman Bilawal Bhutto Zardari and Will convey to the concerned authorities.
He said that after the merger of FATA, the people there are facing numerous problems and it is the responsibility of the government to redress their grievances so as to speed up the process of bringing these areas into the national stream of the country. . Minister Sajid Hussain Tori announced the opening of OPF School, Working Focus Grammar School and Workers Hospital for Khyber District.
He said that Bilawal Bhutto Zardari has issued clear instructions to set up an open court and solve public problems, especially the problems of workers and Pakistanis living abroad.