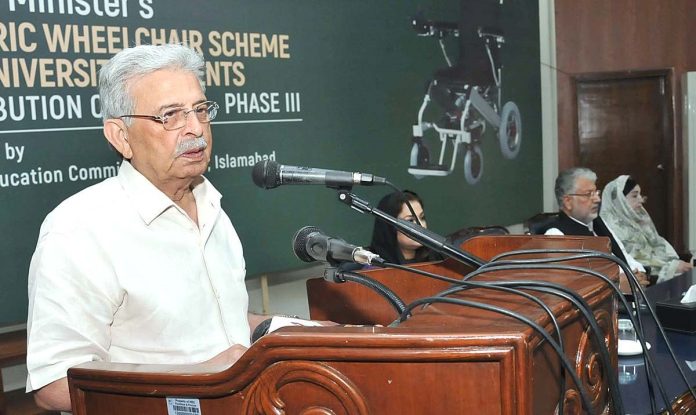 Islamabad. May 26 (APP): Federal Minister for Federal Education and Professional Development Rana Tanveer Hussain has said that the youth are the asset of the country and the government will continue all possible efforts to provide facilities to the youth. He was addressing a function organized by the Higher Education Commission in connection with the Prime Minister's Wheelchair Scheme. In the event, wheelchairs were distributed among 37 students of various universities under the third and final phase of the scheme.
Federal Minister of Education Rana Tanveer said that physically challenged students are highly minded regarding the future. He said that the youth are the asset of Pakistan for whose welfare the government is implementing various programs under the Prime Minister Youth Program. He emphasized on providing more facilities to disabled students. Chairman HEC Dr. Mukhtar Ahmed highlighted the background of the Prime Minister Electric Wheelchair Scheme and said that the program was launched in 2017 to distribute electric wheelchairs to disabled students to support their educational journey.
He said that in the next phase of this scheme, necessary equipment will be distributed to hearing and visually impaired students. In her opening remarks, Executive Director HEC Dr. Shaista Sohail said that 206 wheelchairs were distributed in the first phase of the scheme launched in 2017, while 159 wheelchairs were distributed in the second phase. In the last phase, distribution of wheelchairs to 240 students is going on. The students who received electric wheelchairs also expressed their appreciation and appreciated the scheme of providing wheelchairs.
The news is published by EMEA Tribune & Associated Press of Pakistan