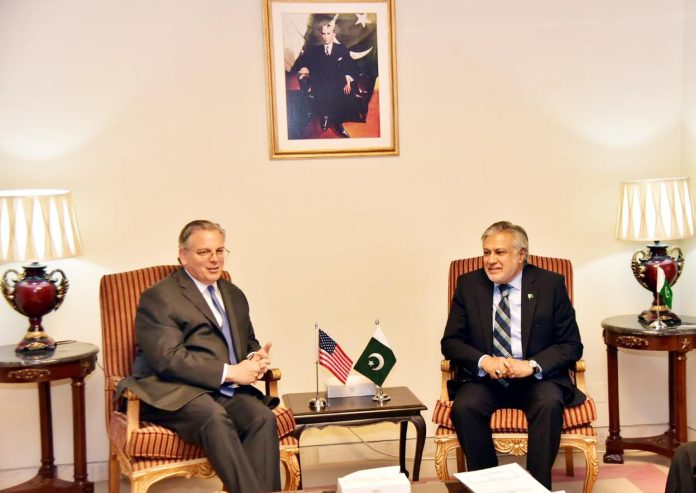 Islamabad, December 6 (APP): Federal Finance Minister Ishaq Dar was met by US Ambassador to Pakistan Donald Bloom at the Finance Division on Tuesday. On this occasion, SAPM Finance Tariq Bajwa, Secretary Finance and other Finance Division officials Senior officers attended the meeting. The Finance Minister welcomed the Ambassador and highlighted the historic and enduring bilateral relationship with the US on the economic and trade front.
The Finance Minister apprised the US Ambassador about the post-flood reconstruction and rehabilitation projects being undertaken by the current government. It was also informed that the present government is very much concerned about the welfare of the people, therefore various measures are being taken in this regard. During the meeting, the two sides also discussed other issues of mutual interest. The Finance Minister apprised the US Ambassador about the government's comprehensive and practical plans for revenue and expenditure to meet its national and international financial obligations.
Donald Bloom echoed similar sentiments on bilateral relations between the US and Pakistan. He acknowledged the huge economic losses caused to Pakistan by the flood crisis and said that the US government stands by Pakistan in this difficult time. Appreciating America's support, the Finance Minister said that America has always supported Pakistan in difficult times. The Finance Minister shared various economic avenues in which the two countries can further deepen their economic ties. Finally, the Finance Minister thanked the American Ambassador for his support to Pakistan.