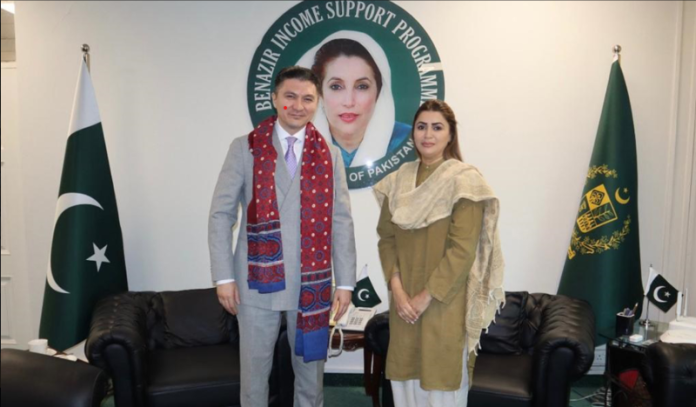 Islamabad. May 16 (APP): Federal Minister for Poverty Alleviation and Social Security and Chairperson Benazir Income Support Program Shazia Marri met the Ambassador of Kazakhstan Yerzhan Kistafan at BISP headquarters today.
During the meeting, the two sides discussed other matters of mutual cooperation including education, culture and especially in the fields of social security. Highlighting the importance of the common cultural and religious heritage of Pakistan and Kazakhstan, Shazia Murri said that there is an urgent need to increase mutual cooperation between the two countries.
The federal minister emphasized on strengthening bilateral relations at the government level as well as on public communication. On this occasion, Shazia Murri presented the brochure of Benazir Income Support Program and a traditional gift of Sindhi cash to the visiting diplomat. Yerzhan Kistafan Appreciated the warm welcome of Federal Minister Shazia Murri and said that Benazir Income Support Program is one of the best social security programs in the world. He said that such programs of direct cash financial assistance to the weaker sections of the society should be practiced in other countries as well.
The news is published by EMEA Tribune & Associated Press of Pakistan