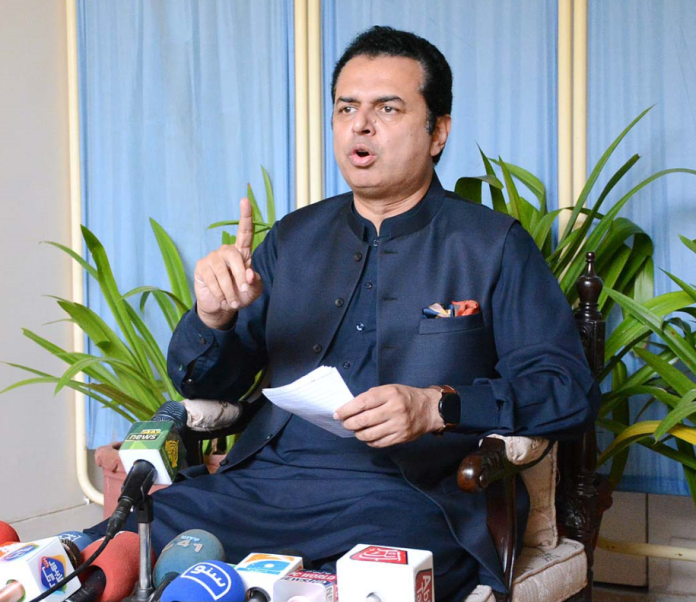 Islamabad. May 16 (APP): Pakistan Muslim League-N leader Talal Chaudhry has said that the parliament should be strong. The armed anarchists who started the fire were other people, the public cannot be fooled any more, if the case of attack on GHQ is not going to go to army court, where will it go?
If elections are held under these conditions, who will be spared from these riots, tomorrow's sit-in is not over, it has been postponed, if the house of Quaid-e-Azam is not safe, then how will anyone else's be safe? Release. He said this while holding a press conference at National Press Club Islamabad here on Tuesday. Talal Chaudhry said that the thing to think about is why the protest of the previous day took place. If you make the accused a guest, people will protest, talking with literature is a good thing but dacoits are not treated with literature, literature is for the innocent and the innocent, Imran Khan wants to create a narrative based on lies, sports from 2017 It started, ad Imran Khan took a petition against the elected Prime Minister, the atmosphere in the country was created and Ladley was made the Prime Minister by facilitating, every writ was dismissed on technical grounds, now they get bail in two days, now elections again. Trying to manage.
He said that on the call of PDM, people reached Islamabad yesterday in less than 48 hours, not even a branch of a tree was broken yesterday, while on the other hand, nothing happens without setting fire. He said that those who set fire on May 9 were ticket holders of PTI but the blame is being put on an organization, these people used to proudly say that we are going to set fire, when Mir Jafar says Mir Sadiq, people will Will do the same, these riots were decided in a meeting with Imran Khan.
Talal Chaudhry said that if elections are held under these conditions, who will be spared from the evil of these people, open the social media of PTI ticket holders and all the truth will come out. should not be pushed into an election that no one believes in, elections should be held for Pakistan's need and not for anyone's wish, the story of PTI's foreign funding is too long, don't dismiss Terrian White's case on technical grounds Tell me whether the daughter is his or not, give a guarantee that how the ballot box will be saved from these riots, Imran Khan changed 9 lawyers in Toshakhana, watches were stolen, houses were set on fire for the sake of 60 billion, Quaid-e-Azam's The house is not safe, how will anyone else be safe, the job of the court is not to issue an injunction on the law of Parliament.
If you can't follow the law, close the parliament, yesterday's protest will change with time. There is no handcuffs, tears come out first, we people have endured oppression but never took the law into our hands, elections should be held on time and institutions have been given scope in the law in this regard. They should be clean, the Election Commission is so independent that it is given a history, let us know in which protest of PTI there was no burning and encirclement. Do not watch this time.
The news is published by EMEA Tribune & Associated Press of Pakistan