Pakistan can reduce its financial and economic problems by changing attitudes to protect water and energy, President Dr. Arif Alvi's address to the conference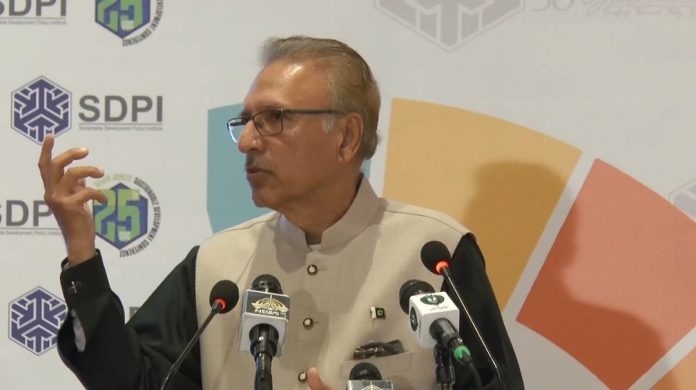 Islamabad. December 8 (APP): President Dr. Arif Alvi has stressed the need for a change in attitudes to conserve water and energy, and as a result, Pakistan can reduce its financial and economic problems. By closing the business early, we can save three to four thousand megawatts of energy, while by making small and large water reservoirs, we can save the rain and flood water and use it for agriculture and other purposes.
The President expressed these views while addressing the 25th Sustainable Development Conference of the Sustainable Development Policy Institute (SDPI) here on Thursday. Diplomats and international delegates also participated in the conference.
The President said that the goal of our behavior should be to reduce waste and eliminate our unnecessary desires. At the same time, one should try to live a happy life based on religious and Islamic values of love without hatred towards other nations and all living and non-living creatures.
President Dr. Arif Alvi said that we can overcome economic and financial problems by making meaningful changes in our behavior and lay a strong foundation for a happy life. He said that after the devastating floods, we are entering the phase of rehabilitation of the flood affected areas and flood victims in most parts of the country.
The President said that we need to adapt ourselves to the expected changes due to climate change and build a strong society that can adapt to changes in the environment and overcome natural disasters due to climate change and global warming. Be able to get along. The President said that dealing with crises and problems has different stages which starts with first identifying the problem, creating a baseline, reflecting on past experiences and benchmarking good practices within the country and around the world. .
He said that we should focus our minds and resources on the target by defining our goals, key performance indicators and a timeline. The President said that there is a need to limit global warming to combat climate change. "We need a change in attitude and a total commitment to a timeline that the world is not ready to do right now," he said. The President said that people are reluctant to take and buy contraceptives to prevent unwanted pregnancy, the use of contraceptives can reduce the birth rate.
He said that the world has entered an era of food abundance through the use of high yielding seeds, highly efficient water conservation techniques, artificial intelligence to provide micronutrients, which will also produce abundant food in Pakistan. The ability to do so exists. He said that hunger can be controlled easily with this.
The President said that Pakistan was able to control the epidemic in a better and scientific manner than the regional countries by giving the message of frequent hand washing, social distancing and other restrictions during the Corona epidemic. He said that epidemics are going to spread more frequently in the future. Earlier, Chairman Board of Directors SDPI Shafqat Kakakhel said in the welcome address that SDPI is providing research and evidence-based policy inputs to the government to formulate policies.
He said that the world should focus on comprehensive development. Speaking at the event, Makiko Tanaka from the United Nations Economic and Social Commission for Asia and the Pacific said that South and Southwest Asia need to strengthen their partnership to tackle common challenges. SDPI Executive Director Abid Silhari gave a brief overview of the three-day conference.
He said that recent challenges including Covid-19, Ukraine war and climate change were discussed in the conference. He said that 11 sessions of 38 panels related to these issues were held and delegates of international organizations also participated in the conference.
The news is provided by the APP © 2022 The Associated Press of Pakistan, published by EMEA Tribune