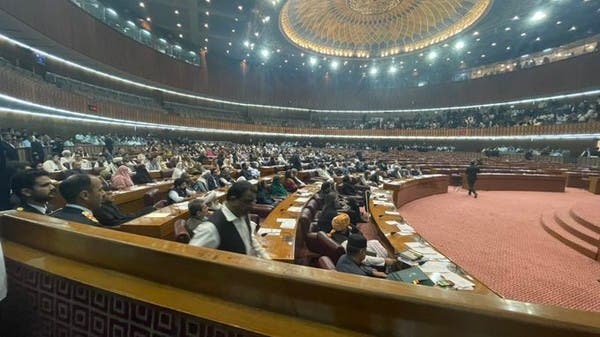 The National Assembly, the lower house of the Parliament of Pakistan, on Thursday passed a resolution rejecting the Supreme Court's order to hold early elections in two provincial assemblies.
Earlier this week, the Supreme Court declared illegal the government's move to postpone early elections in two provinces, Punjab and Khyber Pakhtunkhwa. In these two provinces, former Prime Minister Imran Khan dissolved their local governments earlier this year.
Speaker National Assembly Raja Pervez Sharaf said in a live TV telecast that the resolution against the decision of the three-member bench of the Supreme Court has been passed by majority.
Member of the Assembly from Balochistan Khalid Magsi read the resolution in the National Assembly on Thursday. In it, the decision of the court has been rejected.
In the session of the National Assembly, a resolution was presented regarding the decision of the election of the three-member bench of the Supreme Court

The resolution moved by Khalid Magsi was adopted pic.twitter.com/Yt17sLRTmT

— National Assembly of 🇵🇰 (@NAofPakistan) April 6, 2023
On April 4, the Supreme Court had annulled the Election Commission's decision to postpone the elections in Punjab province from April 30 to October 8, saying that the move was "unconstitutional, outside legal jurisdiction and has no legal effect."
On Wednesday, Prime Minister Shehbaz Sharif in the cabinet meeting called this decision of the court "a mockery of the constitution and law" and said that it cannot be implemented.
The same view was echoed in the National Assembly today and it has not only passed a resolution against the April 4 decision of the Supreme Court, but urged the Prime Minister not to follow this decision. Mian Shahbaz Sharif also briefly attended the proceedings of the House for and left shortly after the resolution was passed.