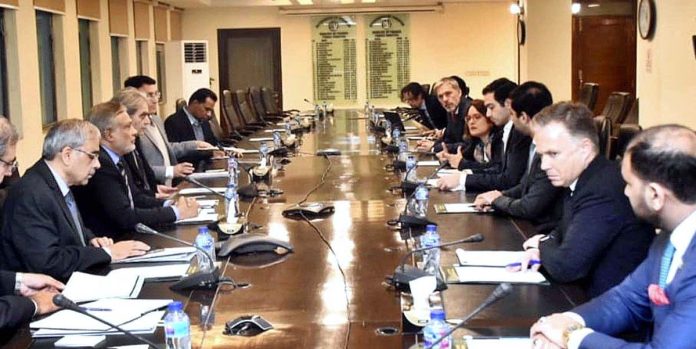 Islamabad. November 29 (APP): Federal Minister for Finance and Excise and Revenue Senator Muhammad Ishaq Dar has said that Pakistan is gradually moving towards economic stability and this is the right time to invest in the country. He said this in a meeting with a delegation of institutional investors at the Ministry of Finance here on Tuesday.
The delegation included Khurram Shaikh and Alia Mobid, Managing Directors from Jefferies, Mehmood Ali Shah Bukhari CEO of Trade, Louis Asad Simon Tamburel, Vice President of Goldman Sachs Asset Management and Co-Chief Investment Officer Mr. James. Special Assistant to Prime Minister on Finance Tariq Bajwa, Special Assistant to Prime Minister on Revenue Tariq Pasha, Special Secretary Finance and other senior officers of Finance Division were also present on the occasion.
The delegation discussed about the economic situation and economic scenario of the country. The delegation held comprehensive discussions with the Finance Minister regarding the IMF programme, flood-related expenses and losses, market situation and external accounts situation. The Finance Minister welcomed the delegation and assured the delegation that the present government has taken all wise steps to make the business environment in Pakistan easy and favorable.
He said that Pakistan is slowly but gradually moving towards economic stability and this time is suitable for investment in Pakistan. It was informed in the meeting that the phase of reconstruction and rehabilitation will start in the coming months. The Finance Minister praised the friendly countries for their assistance to the flood victims. The finance minister added that the current government's aim is to successfully complete the IMF programme, the government will repay the international bonds on time.
He said that we have no plans to approach the Paris club. He further emphasized that the current government is committed to fulfill all financial commitments made by the current and previous government with national and international financial institutions.