Pakistan will expand education to graduation level for orphans living in Baitul Mal Sweet Homes, Aamir Fida Pracha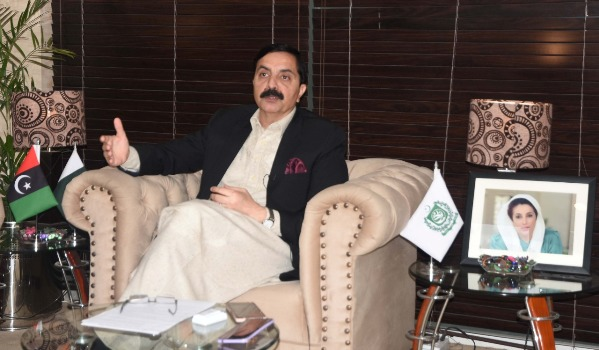 Islamabad. December 4 (APP): Managing Director of Pakistan Baitul Mal, Aamir Fida Paracha has said that a pilot project has been started to provide facilities for orphans living in sweet homes across the country to get education up to graduation level. What have you decided to do?
In an exclusive interview with APP, he said that earlier the children of Sweet Homes were being given educational needs up to matriculation level, but now a pilot project has been started to help them get education up to graduation level. Is.
At present, 51 Sweet Homes operating across the country are meeting the needs of housing, education and sponsorship of 4355 orphans by adopting a modern welfare approach.
Aamir Fida Paracha also revealed that Pakistan Baitul-Mal has planned to establish a technical school with every sweet home under its supervision so that children who cannot study or are not inclined to pursue formal education can be trained in professions. To be equipped with vocational and technical skills and to be able to support themselves and their families. across the country to tackle the growing problem of child labor in the country
159 Child Labor Rehabilitation Centers have been set up which are working to pull children out of their workplaces to mainstream them through non-formal education. Children from these rehabilitation centers are admitted to government schools for education up to class VIII through a grant of Rs 4100 from Pakistan Baitul-Mal.
About the Orphan and Widower Support Programme, the Managing Director said that the programme, which is a conditional cash transfer intervention, is primarily designed to provide financial assistance to widows with a focus on the education of orphans, especially girls. 8 thousand rupees per month and Rs 16,000 thousand per month to families with more than one child respectively are provided under this program on compliance of 75 percent school attendance. A total of 692 families are provided under this program from December 2020. 23.598 million rupees have been paid so far.
Amir Fida Paracha said that the first phase of this program will be launched in Karachi as a pilot project next week while it will be launched later in Lahore to reach more families.
About the expansion of Women Empowerment Centers, MD Baitul Mal said that around 163 Women Empowerment Centers are functioning across the country to empower widows, orphans and poor girls in modern businesses including dress designing, fabric painting, embroidery, basic And free vocational training can be provided in advanced computer courses. A daily stipend of Rs.50 is given on the basis of attendance through biometric system. However, the scope of the center will be expanded to the tehsil level, which was earlier established at the district level.
He said that Pakistan Baitul Mal has also started the certification process with the help of National Vocational and Technical Training Commission so that women who complete the courses and qualify the test can get the appropriate certificate for employment.
He said that immediately after taking charge, a special wing has been created in Baitul-Mal to attract local and international donors. Through such efforts, a Women Empowerment Center is being established in the suburbs of Pakistan Baitul-Mal Islamabad for which a private donor has provided land and computers from another. Now, Pakistan Baitul-Mal will depute its employees at the center to implement this initiative.
He said that with the support of a Turkish NGO, a special course in stone cutting and polishing is being added to the Women Empowerment Center of Gilgit-Baltistan, which will generate a source of local income. Describing the projects of shelter homes and mobile anchorage as people-friendly projects, Amir Fida Paracha said that the required budget was not provided to Pakistan Baitul-Mal for these projects. Although partner NGOs are contributing only to provide food, Pakistan Baitul Mal has to bear the cost of employee salaries, building rent, utility bills. This is the reason why Baitul-Mal could not expand the existing projects or start any new initiative. Pakistan Baitul-Mal has asked for a budget of 12.5 billion rupees for the implementation of these projects, but only six billion rupees have been received, which is only to cover the expenses of the ongoing projects.
He said that Pakistan Baitul-Mal has requested additional budget but no response has been received yet so the department has had to change the menu of langar khanas to manage the expenditure.
About the individual financial assistance initiative, he said that individual financial assistance helps the poor, widows, destitute women, orphans and disabled persons through general assistance, education, medical treatment and rehabilitation.
He said that under this program from July 2019 to December 1, 2022 more than 9 billion 26 crore 91 lakh 25 thousand rupees have been distributed to the deserving people.
Aamir Fida Paracha also highlighted that Pakistan Baitul Mal is moving towards digitizing all records of its projects to ensure that there is no bias and first come first served beneficiaries. Assistance should be provided on the basis of
The news is provided by the APP © 2022 The Associated Press of Pakistan, published by EMEA Tribune