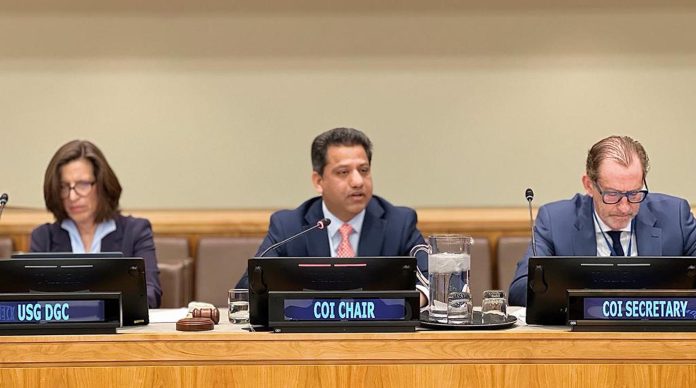 New York.April 24 (APP): Pakistan was elected as the Chairman Committee on Information for a two-year period (2023-24) during the first session of the 45th Annual Session of the United Nations Committee on Information. Pakistan is chairing the Committee on Information for the second time. On behalf of Pakistan, Deputy Permanent Representative of Pakistan Ambassador Amir Khan will head the committee. Chair Ambassador Aamir Khan in his opening statement appreciated the honor given by the member countries to Pakistan for chairing this committee and hoped that our joint work would be successful and fruitful.
He said that he was satisfied with the fact that the Department was led by the Under Secretary General, Ms. Melissa Fleming, who always provided valuable insight to the Committee. He stressed that the world is facing various crises, including the covid-19 pandemic, the threat posed by climate change and shocks between food, fuel and finance, which are the cause of existing and new conflicts. So in this situation, "our committee's role is crucial in meeting the many challenges and ensuring accurate and timely information. Ambassador Aamir Khan emphasized on gathering information and ensuring its integrity.
"As chairman, I will promote factual information and fight against the spread of misinformation. We must fight against hate speech," he said. He insisted that "digitalized platforms have been misused by evil elements, fueling social unrest and strife within and between societies. He said that as we work to achieve the Sustainable Development Goals, we must renew our determination to achieve these goals despite the challenges posed by Covid-19. He also stressed on confronting the existential threat of climate change, last year's devastating floods in Pakistan, this year's devastating earthquakes in Turkey and Syria, and threats from rising sea levels and desertification. It has serious manifestations.
He emphasized that our information systems must promote information sharing and best practices to accelerate bold climate action. Also stressed on addressing the lack of access to linguistic information. We must bridge this gap and create a fair, equitable and flexible global information landscape, he added. He mentioned Pakistan's initiative in this regard, the General Assembly for the first time on December 24, 2021 passed Resolution 76/227 which was titled "Countering Disinformation for the Promotion and Protection of Human Rights and Fundamental Freedoms".
Countering Disinformation was launched to advance a multi-pronged response to combat all forms of disinformation, including in the context of the Covid-19 pandemic. Last year, as the G77 Chair, Pakistan played a productive role in bringing about a consensus-based resolution in the Committee on Information. He looked forward to a close working relationship with the Global Communications Department to ensure that the Committee continues to deliver on its key mandate during Pakistan's Chairmanship of the Committee.
He also thanked the members of the Bureau, Secretariat and Ecuador, as the outgoing Chairman of the Committee, who worked during the previous sessions. He also welcomed the new Vice-Chairs and Representative of the Committee as well as the new member Estonia. The Committee on Information is a subsidiary body of the Fourth Committee of the General Assembly of the United Nations. It reviews the public information policies and activities of the United Nations. The Committee reviews and monitors the efforts and progress made by the United Nations system in the field of information and communication. The Committee also promotes the establishment of a new, fairer and more efficient global information and communication system. Gives
The news is published by EMEA Tribune & Associated Press of Pakistan