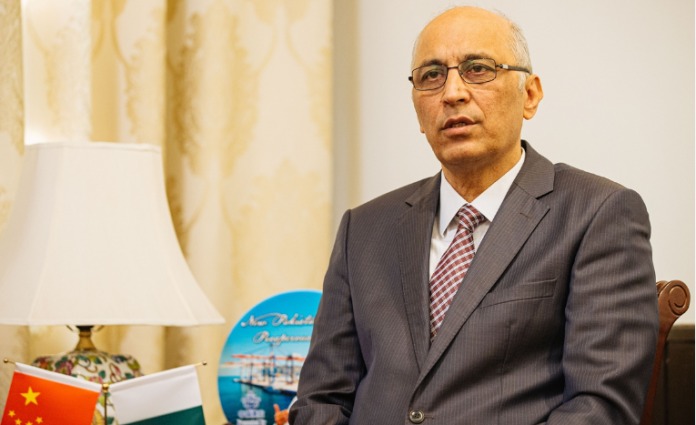 Beijing, March 29 (APP): Pakistan's ambassador to China, Moinul Haque, has said that Pakistan strongly supports Chinese President Xi Jinping's Global Development Initiative (GDI) and Global Security Initiative (GSI). He told the Chinese newspaper China Daily that the two projects presented by the Chinese President in the last 2 years, the Global Development Initiative and the Global Security Initiative, are important for human development and meet the urgent needs and difficulties of a divided and unstable world. have become necessary to resolve.
The Pakistani ambassador said that Chinese President Xi Jinping proposed the GDI project in his speech to the United Nations General Assembly in September 2021, which was a very important initiative for infrastructure development and connectivity after the Belt and Road Project. He said that during the visit of the Prime Minister of Pakistan to China in November last year, the two countries signed a memorandum of understanding, with which Pakistan became one of the first partner countries under the GDI. So under the MoU we will cooperate in the areas of education, health, agriculture and of course climate change, which are very important areas not only for Pakistan but for the entire international community.
Referring to the recent floods in Pakistan, he said that under the GDI framework, climate change will be a very important topic of cooperation between China and Pakistan as floods in Pakistan are an alarm for everyone. The Pakistani ambassador said that Pakistan has fully supported China's Global Security Initiative (GSI) because Pakistan and China are important members of the international community and both countries are highly responsible member states of the United Nations and GSI is a UN member state. It is in accordance with the objectives and principles of United.
He said that security is an important issue for China and Pakistan and Pakistan has suffered for many years due to the negative security environment around it. Security and energy security are important aspects of security for both countries, so we feel very proud that Pakistan and China share the same vision and stand on global peace and security.
The news is published by EMEA Tribune & Associated Press of Pakistan