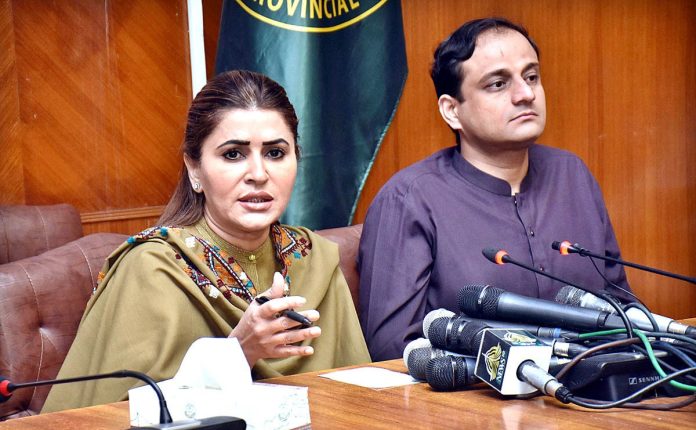 Karachi. May 17 (APP): Federal Minister for Poverty Alleviation and Social Protection and Chairperson Benazir Income Support Program Shazia Atta Murri and Sindh Government Spokesperson and Law Adviser Sindh Barrister Murtaza Wahab have said that May 9 should be celebrated as Black Day. It has been announced, on May 9, the miscreant jathas committed lawlessness, damaged the property of Pakistan, the installations of sensitive institutions, they should be taken to task so that no such heinous act can be done in the future. He said this while addressing a joint press conference in the Sindh Assembly Committee Room on Wednesday.
Shazia Atta Murri said that it was a painful day. The nation believes that it is necessary to take those who spread such mischief with bare hands, otherwise these actions may become normal. The people of Pakistan, civilians, military forces have always fought for peace. Sacrifice, the way a person provoked people, all the media have those videos, this person was sending messages to spread destruction. He messaged people to destroy, destroy. This person has been threatening the institutions that if something happens to him, there will be bad consequences. It is the favor of Allah, we are Pakistanis. In this Sindh Assembly, a resolution was presented for the establishment of Pakistan. If we remain silent, then it is not like this. We are Pakistanis first, then we are part of a political party.
He further said that he will not allow the country to be destroyed because of Imran Niazi's ego. Imran Niazi has adopted an undemocratic attitude. . May 9 brutality was done with regular strategy, Pakistan flag was burnt, live animals were burnt, Peoples party itself believes in protest, saw jails, caned and tortured our MNAs on appearances. Attitude has been taken, we have always taken the constitutional path, when in any protest in the opposition, we have not protested violently in history, Imran Khan should know that there is a difference between jihad and riot, it is not a jihad. is only corruption,
The memorial of the sacrifices made by the martyred soldiers was demolished. If this is not a riot, what is it? MM Alam had shot down six enemy ships and burned them knowingly. What message did Imran Khan want to convey? We value our martyrs, strongly condemn the attack on Jinnah House and other sensitive places.
Shazia Murri said that when Imran Niazi went out of Pakistan as the Prime Minister, he even went there and targeted the political leadership. It is using you people to set fire in Pakistan, first this person incites and then backs down, we believe that dialogue is the only solution to problems in this country, Imran Niazi come out of this mess and try. Contribute to stability in Pakistan. Those who spread terrorism and mischief need to be caught.
On this occasion, Barrister Murtaza Wahab said that what happened when Imran Khan said that it was not a protest but terrorism, I will tell all the miscreants that if you believe in politics, remember that if you believe in politics, then you need to understand that it is Pakistan. In difficult times, they do not harm themselves for the sake of their ego, the political leadership around the world proves itself by its work, the leadership also goes to jail, there is no example in the world that one goes out in an expensive car and He tells you to get arrested, I want to show people this mirror, other leaders of Tehreek-e-Insaaf will have to think that they came out to harm the country for the sake of one person. keep them
Barrister Murtaza Wahab said that what will happen to the 22 crore people who is not theirs, the Chief Justice is requested, this whole problem is Imran Khan's own, it should not be for everyone. Shazia Murri said that even today we have a big heart because it is a matter of Pakistan, we want Imran to end more corruption and contribute to the dialogue, human reformation can always happen, we are giving a chance which is the loss of Imran. Khan has delivered, it does not constitute an apology, but still PTI wants to keep its politics alive, then do politics, don't do terrorism.
Murtaza Wahab said that when he was in power and now when he is not, he talks like this, there is nothing black in dal, here only dal is black, this person is doing something else here with foreign funding, foreign funding. I'm a year on Shokaz He didn't reply, It is true that people are deeply affected by inflation, as soon as there was an opportunity, the prices of petroleum products were reduced. 28 lakh families were provided money through BISP programme. Yes, the relief work is going on for the flood victims, we are trying to solve the four years of debris today, which will take some time, the parliament is the body that makes the law, the judges come through the constitutional process. In the assembly, the members come with the vote of the people, we have suffered four military dictators, Imran Khan should not do politics with terrorism, Imran Khan should apologize for what he has dishonored.
Barrister Murtaza Wahab said that the double standard started from the day Imran Khan was released, Ali Zaidi is a political leader, we do not adopt double standards, Ali Zaidi was arrested, he was being transferred to Jacobabad. He had some health problems and when the request came, his house was declared as a prison.
The news is published by EMEA Tribune & Associated Press of Pakistan