Pakistan has many resources and opportunities, we should be aware of these opportunities to provide foundation and motivation to our future generations to make our country strong and prosperous, President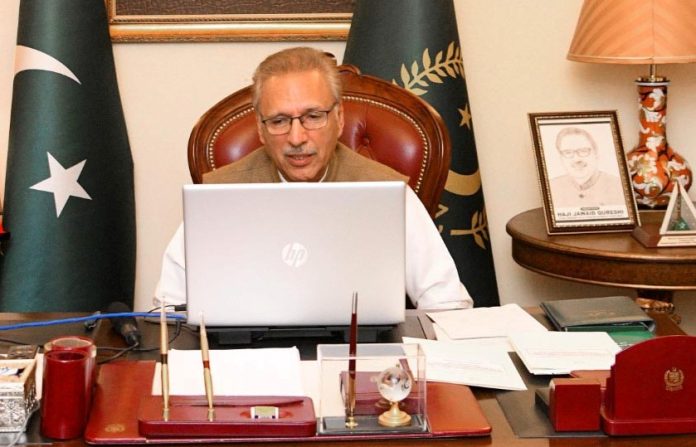 Islamabad. November 24 (APP): President Dr. Arif Alvi has said that Pakistan has many resources and opportunities. Opportunities should be informed, political stability is closely related to economic stability, in my personal capacity I am trying to bring the relevant stakeholders to a table to create a consensus to solve the critical issues facing the nation.
He expressed these views while giving a virtual address at a seminar organized by the London School of Economics Students Union Pakistan Development Society on the role of the President. This session was presided over by Baroness Manouche Shafiq, Director of London School of Economics and Political Science (LSE).
The President said that the role of the Presidency in the Constitution is as a unified force where the President is the head of state and the elected Prime Minister has executive powers. He said that he was playing his role by living within the framework of the constitution. He said that despite the fact that Pakistan was facing difficulties and challenges, it had many resources due to which it could do many things. Helped to overcome crises successfully.
He said that during Corona, Pakistan used a unique and tailor-made strategy to combat the Covid-19 pandemic. The leadership, concerned institutions and health authorities worked in unison, adopted a partial lockdown strategy and ensured its implementation through communication, awareness and education channels, thereby saving lives and jobs in the country. Helped to save, our mosques, businesses and industrial sites remained open and we came out of this crisis better than our neighbors and many other countries in the world.
The President said that Pakistan advocates peace in the whole world on the basis of equality, dignity and sovereignty and wants to resolve international and regional disputes through dialogue, discussion and deliberation. He emphasized that the international community and the United Nations should act in accordance with the resolutions of the United Nations Security Council to resolve the long-standing issue of India's illegally occupied Jammu and Kashmir and the growing religious tensions in India. Play your role to prevent extremism, its Hindutva ideology, Islamophobia and persecution of minorities, especially Muslims.
He said that Pakistan, despite its limited resources, accepted the challenge of combating global warming and climate change and launched a program to plant one billion trees and later on its success, the government launched 10 billion trees. Planting campaigns to reduce greenhouse gas emissions, mitigate the effects of climate change and save flora and fauna and nature for future generations is our part for a better world tomorrow, he said. has generously opened its arms to refugees displaced by international crises and has hosted millions of Afghan refugees for more than 40 years, unprecedented in world history.
He said that all refugees should be treated equally and they should be treated equally regardless of race, color or religion. Actively participated in promoting preventive methods of treatment focusing on self-examination and early diagnosis to avoid costly and rare treatments.
The President said that Pakistan is facing a higher prevalence of breast cancer than the global average due to the social and cultural taboos associated with it and lack of education and awareness, a situation now under the leadership of the First Lady in the last four years. This is changing with the initiation of continuous awareness and education efforts that emphasize self-assessment and early diagnosis using all forms of communication, including social and traditional media and cell phones.
He said that now more and more women are getting medical help in the early stages of breast cancer, whose recovery rate is more than 90 percent. Talking about the issue of mental health, he said that this topic is not a problem in Pakistan. is still considered taboo, despite the fact that 24 percent of Pakistanis suffer from some form of depression.
He said that Pakistan has less than 2,000 mental health professionals for a population of about 220 million which is grossly inadequate and stressed the need to use technology and web-based IT tools to provide a large number of mental health professionals. Access to mental health facilities to the population can be substantially increased. He said that the Presidency spearheaded the program for the development of youth skills especially education in the field of IT as they believe that this is Pakistan. is the fastest way to progress.
He said that the young generation in Pakistan is a great asset which can be transformed into an economic force by imparting quality education and skills in information technology, computing, artificial intelligence, virtual reality and blockchain technologies and other such advanced fields. which will help to meet the ever-increasing needs of the country and other countries of the world. He said that 2.4 million people have benefited from the Prime Minister's Online Digital Skills Program which shows the interest of the youth in these fields.
He urged the Pakistani diaspora to help build an IT-based business ecosystem in the country. He said that he was actively engaging all stakeholders in both the public and private sectors to empower women. More than 50 percent of the population can be included in the active economic stream and by encouraging stakeholders to create an enabling environment for them to realize their full potential.
He said that he was addressing the issue of fake news which was exacerbated by the proliferation of social media at the grassroots level. "We need to entertain and educate our people only with news that is taken from an authentic source and verified by reliable sources before disseminating it further," he said. He said that education, training and awareness about finding authentic news from fake news is the best solution to combat fake news.
Throwing light on the political and economic situation of the country, he said that he believes that political stability is closely related to economic stability, therefore, in his personal capacity, he is trying to bring the relevant stakeholders to a table so that the nation Consensus can be created to solve the important problems faced by
The news is published by EMEA Tribune & Associated Press of Pakistan