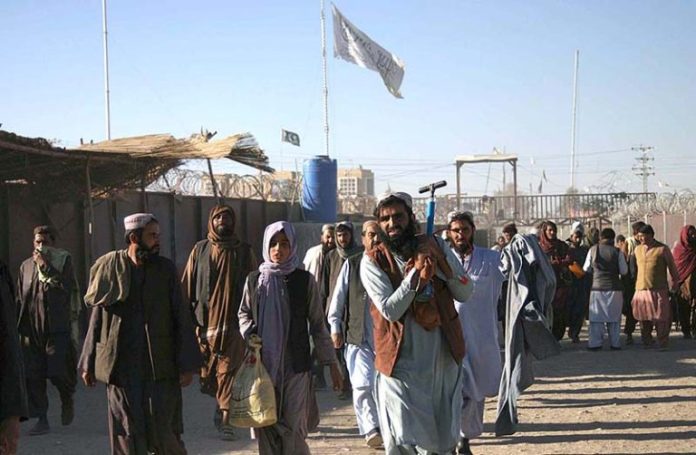 Islamabad – March 29 (APP): Pakistani authorities are taking all possible measures to facilitate the monthly movement of 385,000 Afghan citizens from the crossing points on the Pak-Afghan border and have established an integrated border management system in this regard. In which various measures have been implemented for the convenience of passengers including the establishment of special counters.
Official sources said that on an average, about 13,000 people, including pedestrians, patients, traders, tourists and transporters, travel to and from Afghanistan from the border points located on the Pak-Afghan borders. About 385,000 passengers come to Afghanistan from these crossing points every month.
Apart from this, hundreds of commercial caravans also pass through. At present five border posts are active between Pakistan and Afghanistan which include Chaman, Torkham, Kharlachi, Ghulam Khan and Angoor Adda. Officials rejected the propaganda against Pakistan by the Afghan and Indian media regarding the mistreatment of Afghan citizens by Pakistani officials at the crossing points and said that Pakistan had set up 100 counters at the crossing points despite limited resources and capacity. There are so that the passengers coming across the border can get convenience and they can come easily. No other neighboring country's border crossing points experience such massive traffic.
79 counters are functioning at Torkham and Chaman, the busiest crossing points. Pakistan has installed an Integrated Border Management System (IBMS) at important crossing points, which includes one document regime (weld visa/passport), but for the convenience of its Afghan brothers, Pakistan has allowed a large number of Afghan citizens, especially patients, journalists. , also allows women and traders to cross the border on the basis of a humanitarian "tazkra" (non-weld) document.
Apart from this, special counters for Afghan patients and women have also been set up at the crossing points. Afghan nationals entering Pakistan, whether they are holders of valid or non-valid documents, are allowed to renew and extend their status to stay in Pakistan. Officials said that at the border crossing points, such Afghan citizens who do not even have passports have such facilities of transportation to earn their jobs or to visit a relative or in case of a medical emergency or to get education. Also the other neighbor is not providing.
The news is published by EMEA Tribune & Associated Press of Pakistan