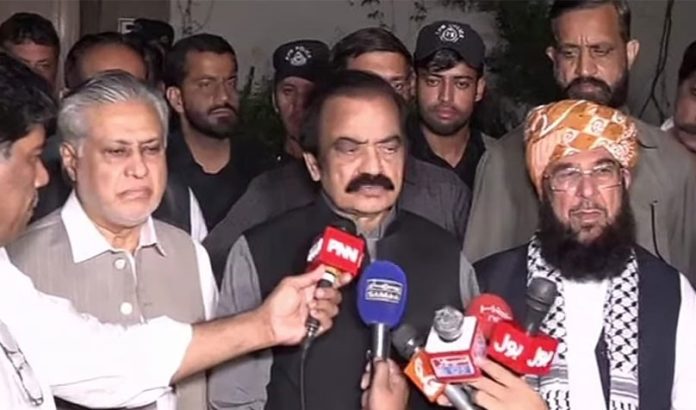 ISLAMABAD – May 14 (APP): Federal Finance Minister Senator Shaq Dar and Interior Minister Rana Sanaullah have said that the PDM leadership has assured that the protest and dharna will be peaceful, not even a single incident. will be broken, the PDM leadership has been informed about the reports of the security agencies and security arrangements have been made keeping in mind the same.
Talking to the media after meeting PDM chief Maulana Fazlur Rehman and other leaders late on Sunday night, the interior minister said that the PDM leadership says that the location of the sit-in has been decided with mutual consultation. The change in location will also be done through consultation. He said that the PDM leadership has been made aware of the concerns and reports regarding the security risks, however, security measures have also been ensured. Finance Minister Ishaq Dar said that there were violent protests in the past few days and national institutions were damaged at the behest of the criminal of the national treasury, but it is hoped that tomorrow's protest will be completely peaceful.
In response to a question, the interior minister said that the armed groups have caused huge losses under the leadership of PTI, now no one will be allowed to take the law into their hands and the process of identifying the accused is going on. The central leader of Islam (F), Senator Maulana Abdul Ghafoor Haidari and other leaders were also present.
The news is published by EMEA Tribune & Associated Press of Pakistan