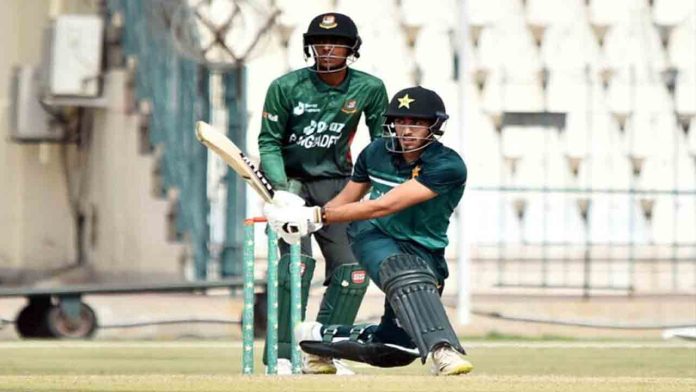 Karachi. May 13 (APP): Openers Shahzeb Khan's century and century partnership with Azan Owais gave Pakistan U-19 victory against Bangladesh U-19 by 8 wickets in the fourth ODI. A decisive lead has been obtained. According to the information received from the Pakistan Cricket Board here on Saturday, Pakistan U-19 won the first match by 9 wickets and the second match by 78 runs, while the host team won by 4 wickets in the third match.
In the fourth match played in Rajshahi, Pakistan U-19 won the toss and invited Bangladesh U-19 to bat first. The host team was bowled out for 199 runs in 46.4 overs. Arif Islam scored 50 runs with the help of four fours and a six. Mahfoozur Rahman Rabi scored 34 runs and Sheikh Parvez scored 30 runs. Amil Khan scored 34 runs for Pakistan U-19 and took 3 wickets. Ali Asfand also dismissed 3 players for 39 runs. Shahzeb Khan and Azan Owais made the first wicket partnership of 152 runs easy for their team to win.
Azan Owais was dismissed for 52 runs with the help of 7 fours. Shahzeb played an innings of 105 runs not out in 105 balls, which included 14 fours and 3 sixes. Captain Saad Baig remained not out by scoring 29 runs in 15 balls, which included 2 fours and 3 sixes. Sixes were included. Pakistan U-19 completed the required score in the 37th over at the loss of 2 wickets. The fifth and final ODI of the series will be played on Monday, after which the two teams will compete in the only T20I on Wednesday.
The news is published by EMEA Tribune & Associated Press of Pakistan