The Kremlin has ruled out the possibility of Chinese mediation to end the fighting in Ukraine, saying Russia has no choice but to continue its war.
"Of course, China has a very large and effective capacity when it comes to mediation services," Kremlin spokesman Dmitry Peskov told reporters on Thursday.
"But the situation with Ukraine is complicated and there is no possibility of a political settlement. At this point we have no other solution but to continue special military operations," he added.
Peskov was responding to questions after President Macron's statement regarding possible Chinese mediation. French President Emmanuel Macron has said in Beijing that he is counting on his Chinese counterpart Xi Jinping, who is close to President Vladimir Putin, to "bring Russia back to its senses."
China is ready to work with France on negotiations to end the war in Ukraine, a French diplomatic source told Reuters today.
The sources added that Xi also signaled that he was ready to contact Ukrainian President Volodymyr Zelensky at an appropriate time. Which he can use in Ukraine war.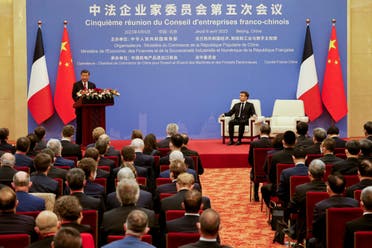 Chinese President Xi Jinping at a meeting with Macron today in Beijing
During a summit in Moscow in March, Russia and China agreed to a strategic alliance committed to resisting US hegemony.
China has reportedly drawn up a peace plan for Ukraine, but the plan remains vague, with Beijing insisting on principles such as respecting the territorial integrity of other countries and defending Russia's diplomatic and security interests. Is.
Although China officially claims its neutrality, Xi Jinping has never condemned the Russian attack or spoken to Ukrainian President Volodymyr Zelensky.
Ukraine has repeatedly reiterated that peace depends on the withdrawal of Russian forces from all its territories, but Moscow has demanded that Ukraine relinquish control over the five regions that Russia has declared annexed.