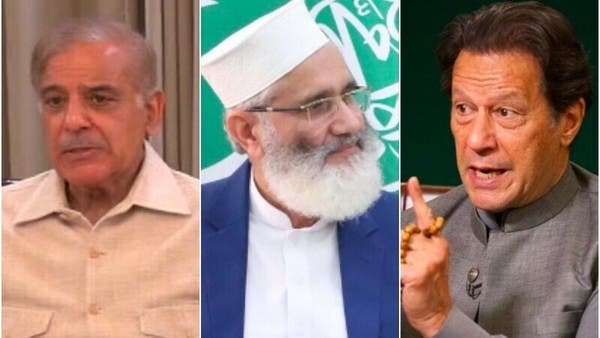 Amir Jamaat-e-Islami Pakistan Sirajul Haq has said in the context of his efforts to gather a platform for political parties to negotiate on the national elections, that if cricket is to be played, everyone will have to agree on the date, ground and method of the match.
While giving an interview to various TV channels, Amir Jamaat has said that Pakistan Tehreek-e-Insaf (PTI) and PDM should be flexible in their position, withdraw from the red lines. Efforts have been initiated to agree on a date because we don't want this war to spread further and the people to remain helpless, Jamaat-e-Islami is negotiating at anyone's will and neither is our aim to find allies or rivals, all They have the right to go to the people according to their ideas and manifesto and this is the only path that can determine the destination, without adopting this path the destination itself will be lost.
He said that Prime Minister Shehbaz Sharif and PTI chief Imran Khan admitted in their meeting that the situation is bad. If the situation is to be taken in a better direction, the only way is the elections. I have added, if they had made a full court, no one would have dared to deviate from the decision. The situation at that time is judge versus judge.
He also appealed to the Supreme Judiciary to relax its stand and give politicians a chance to meet, and also ask the military establishment to fulfill its promise of neutrality to the people in a way that everyone can see. He said that the ongoing political fight in the country is not an India-Pakistan war, God willing, if Nelson Mandela can sit with his opponents after 30 years of imprisonment and there can be talks between the Taliban and the United States, then the political parties in Pakistan will be at peace with each other. Why can't you sit?
He said that Pakistan belongs to all of us, we cannot leave the people helpless like this, this country does not belong to PTI or PDM only, we all are its citizens. He said that PTI and Muslim League have formed committees for negotiations, after Eid they will meet the leadership of PPP and Maulana Fazlur Rahman, will listen to everyone and make their own. Consensus should be created.
Siraj-ul-Haq said that it is certain that no one from outside will interfere in the ongoing battles in the country, no Gulf state will come to our aid, nor any world power to end this fight, everyone is busy with their own priorities. If our battles continue, the whole world will watch the spectacle. People are already in despair, everyone's smile is gone due to inflation and unemployment, the economy is on the brink of collapse, politicians have a dignified way out. It has to be adopted, Jamaat-e-Islami is of the view that political issues should not be resolved by the courts or the establishment, but by politicians.
Amir Jamaat-e-Islami clarified that PTI or Muslim League (N) did not have any pre-conditions before him for negotiations. As far as the cases against PTI are concerned, let me clarify that the cases are also against the leaders of Jamaat-e-Islami. Yes, Maulana Hidayatur Rahman is in jail in false cases, we are going to start a movement for his release from May 1, we have filed an appeal for his release in the Supreme Court. In the past, against the leaders of the current government parties Cases were also registered, unfortunately the history of these cases is very old and we have always raised our voice against such political litigation, this series should be stopped, the process of accountability should be such that everyone can see it and no one can raise a finger. could
Discussing the statement of Chaudhry Pervez Elahi, he said that Jamaat-e-Islami did not go for any alignment with Muslim League (N), PML-N should do its politics, we are doing ours, Jamaat-e-Islami is fighting the cause of the people. , we have Pakistan's priorities. Our aim is only to convince PDM, PPP and PTI on a date for elections.
He said that Maulana Fazlur Rahman is a senior politician, he has always talked about negotiations, we will also go to him, efforts will be accelerated for negotiations among political parties after Eid.