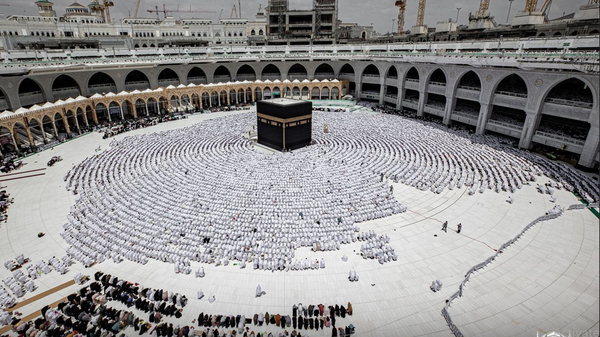 For those intending to enter the holy house of God, it was a difficult matter to circumambulate Baitullah with bare feet in summer, but the government of Saudi Arabia has solved this problem of Zufar Rahman. Now even in 50 degrees Celsius, pilgrims feel cold walking barefoot in Khurram Makki.
But the credit goes to the quality of the marble used in the Makkah, where it is imported from the Greek island of Thassos and is called Thassos marble, which reflects light and heat.
According to the Public Presidency for the Affairs of the Holy Mosques, the thickness of the marble used in Masjid Haram reaches 5 cm, because it is distinguished from others by the fact that it absorbs moisture through the pores at night and absorbs moisture during the day. Time releases this moisture. This is what makes it permanently cool in the light of high temperatures.
In the year 1396 AH, during the reign of Shah Khalid, may Allah have mercy on him, the Masjid Haram and Mataf were extended to its present form in the year 1398. Its floor was decorated with marble. Due to the wealth of this marble, the worshipers and pilgrims of Hajj and Umrah do not feel heat in their feet during the afternoon prayers during the summer days.
Some wrong assumptions are made in this regard that equipment is used to keep the floor of Masjid Haram cold. Not at all.