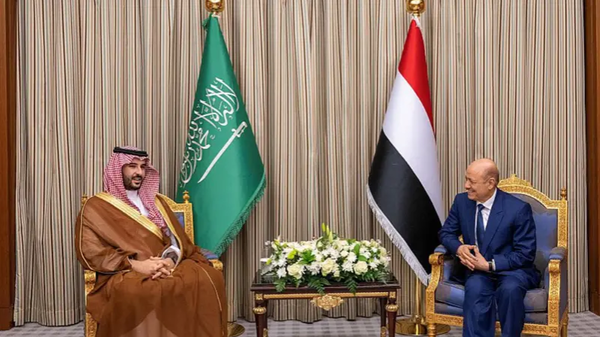 President of the Presidential Leadership Council of the Republic of Yemen, Dr. Rashad Muhammad Al-Aleimi, met with the Minister of Defense of the Kingdom, Prince Khalid bin Salman bin Abdulaziz, at his residence during his visit to Saudi Arabia.
During the meeting, they discussed the fraternal relations between the two countries and the two brotherly peoples, the Kingdom's continued support for Yemen, the progress in the Yemeni situation and the efforts of the Yemeni Presidential Leadership Council to achieve security. The two leaders discussed stability in Yemen and support for all efforts to reach a comprehensive political solution to end the Yemeni crisis.
The Saudi Defense Minister renewed the commitment of the Yemeni Presidential Leadership Council to continue supporting the Kingdom in all fields and said that Saudi Arabia will continue to work for the service of the Yemeni people and their aspirations.
The Minister of Defense conveyed the message of good wishes from the Custodian of the Two Holy Mosques King Salman bin Abdulaziz and the Crown Prince and Prime Minister Prince Mohammed bin Salman to the President and Council members of Yemen's Presidential Leadership Council.
On this occasion, Dr. Rashad Alimi also conveyed a message of good wishes to the Saudi leadership and people on behalf of himself and the Yemeni leadership.
The meeting was attended by the Ambassador of Saudi Arabia to Yemen, Mohammed bin Saeed Al Jaber and the Director General of the Office of the Minister of Defense, Hisham bin Abdulaziz bin Saif. On behalf of Yemen, the members of the Presidential Leadership Council are Major General Sultan Ali Al-Arada, Brigadier General Tariq Muhammad Saleh, Mr. Abdul Rahman Abu Zareah, Dr. Abdullah Al-Aleimi Bawzir, Usman Hussain Majli, Eid Rus Qasim Al-Zubaidi, Faraj Suleiman Al-Bahsani and Prime Minister Dr. Moin Abdul Malik Saeed. attended.