"Chinese elements" in the World Cup – Yutong pure electric buses help Qatar build a green transportation system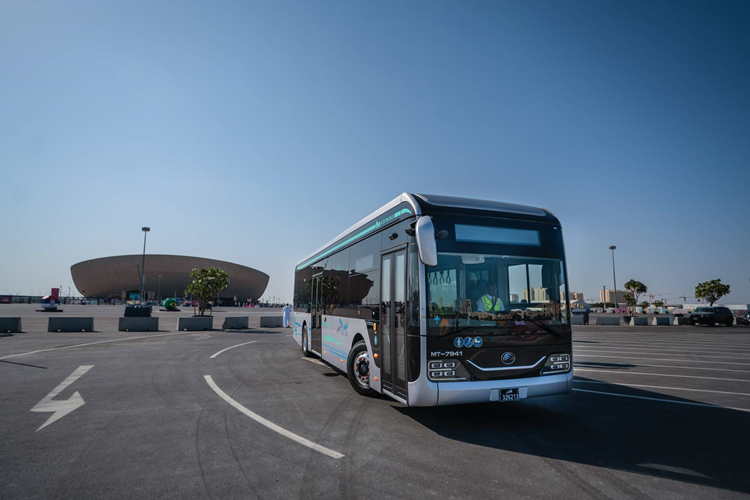 Yutong pure electric buses help Qatar build a green transportation system. Photo courtesy of China Yutong Company
People's Daily Online, Cairo, November 22 (Reporter Shen Xiaoxiao) "Yutong's electric buses are relatively convenient to operate and highly intelligent, with advanced functions such as AUS, door opening brake, one-button start, automatic wiper and light control." The driver, Daniel, is from the Qatar National Transportation Company. After receiving the driving training provided by Yutong in May this year, he quickly learned to drive an electric bus and provided transportation guarantee for friends from all over the world during this year's World Cup.
On November 20, local time, the 22nd FIFA World Cup kicked off in Doha, Qatar, attracting the attention of the whole world. Inside and outside the arena, the "Green Legion" composed of 888 Yutong pure electric buses from China is particularly eye-catching. This is the first time that China's new energy buses have been introduced in large quantities in major international sports events, and it is also the first time that new energy buses have been used as the main force to serve the World Cup. It is a new milestone for Chinese manufacturing to "go global".
In view of Qatar's environmental characteristics of high temperature and heavy wind and sand, the design team specially developed and optimized the model, innovatively designed the air conditioner and power battery, and equipped with a sand protection structure, so that it can fully adapt to the local environment. According to Wang Zhengbin, manager of Yutong's Qatar National Company, these electric vehicles are equipped with an independent battery liquid cooling system to ensure that the battery temperature can be controlled within an ideal range during vehicle operation and charging in hot and dry climates. "The vehicle is also equipped with a 300-kilowatt charging device, as well as two charging modes: night slow charging and daily fast charging, which are convenient for users to adjust flexibly. After fully charging, the average mileage of the vehicle can reach 250-300 kilometers." Wang Zhengbin said.
In recent years, under the background of international energy conservation and emission reduction and carbon peaking, Qatar has vigorously cultivated and developed green and low-carbon industries, promoted the green transformation of the economy and society, and practiced the green development strategy. With high-quality products, strong after-sales support and professional product technology strength, Yutong Bus has become the only supplier of electric buses in Qatar, practicing the sustainable and low-carbon concept of this World Cup to help green travel.
In order to ensure the traffic guarantee during the World Cup, Yutong also provided professional training for the drivers and maintenance personnel of this batch of buses. So far, Yutong has trained more than 2,000 local drivers, and more drivers will be trained by Yutong before the World Cup. The driver Daniel said that after training for three times, he can master the essentials of driving proficiently, and the maintenance of the vehicle is also very convenient.
In November 2020, Yutong signed a strategic cooperation framework agreement with Qatar to establish an electric bus factory in the Qatar Free Trade Zone, which is expected to provide new energy buses with an annual output of 500-1,000 units. It is understood that Yutong will not only impart electric bus manufacturing technology, but also export relevant experience and talents in technology, technology, production management, quality management, etc., to provide technical support for the development of Qatar's bus manufacturing industry and help Qatar realize the transformation of green public transportation.
Qatar National Transport Company, the Qatari partner of Yutong Bus, looks forward to expanding cooperation with China in the future. The company's chief operating officer Obedelli said, "Yutong is one of the largest bus manufacturers in the world. The cooperation between us and Yutong has achieved fruitful results. The teams of both parties work closely together, and technical experts work together to optimize the models to make them more suitable for local conditions. Climate conditions. In the future, I hope to further expand and strengthen the cooperation with Yutong, so that both parties can grow together."
Qatar's Minister of Transport and Communications Suleti said that green and sustainable development is the core concept of Qatar's "National Vision 2030". It is believed that the delivery of these electric buses will help Qatar's public transportation electrification strategy and contribute to Qatar's green development and economic diversification. make a contribution.
(Editors in charge: Yan Meng, Chang Hong)
Share for more people to see

The news is published by EMEA Tribune & Peoples Daily Online