China sent an expert team to Uganda to implement agricultural South-South cooperation projects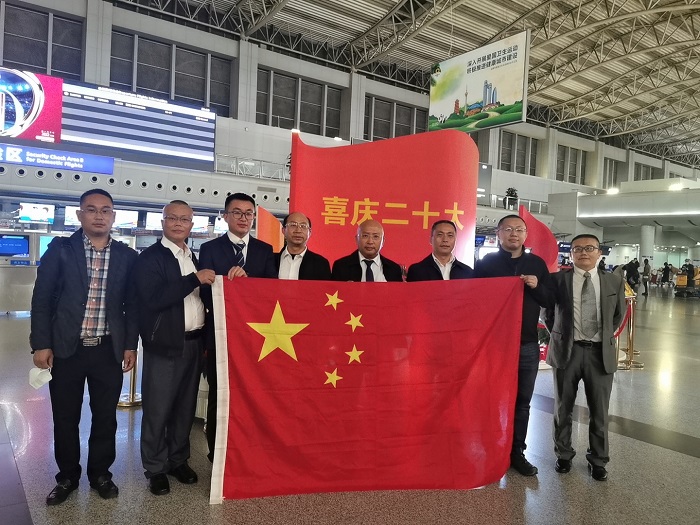 The expert group set off. The picture is provided by the Foreign Economic Cooperation Center of the Ministry of Agriculture and Rural Affairs
People's Daily Online, Beijing, November 19 (Reporter Yuan Jirong) A few days ago, the Ministry of Agriculture and Rural Affairs implemented the global development initiative, launched the China-FAO-Uganda (Phase III) South-South Cooperation Project, and completed the selection of experts. On November 19, 9 agricultural experts from Sichuan officially set off for Uzbekistan to implement a three-year agricultural technical cooperation task.
2022 is the 60th anniversary of the establishment of diplomatic relations between China and Uganda. In order to promote the realization of the 2030 Agenda for Sustainable Development and improve food security capabilities, the China-FAO-Uganda (Phase III) South-South Cooperation Project will establish a South-South Cooperation Project based on previous achievements. The Agricultural Technology Innovation Center makes good use of the two platforms of "China-Uzbekistan Agricultural Cooperation Industrial Park" and "China-Uzbekistan Agricultural Technology Demonstration Center" to carry out cooperation in the three major fields of rice, aquatic products and animal husbandry, and establish a high-yield demonstration area for rice, an aquatic product value chain research and development center and Upgrading the sustainable circulation system of the animal husbandry industry, creating a flagship project and brand of China-FAO South-South Cooperation.
Before the departure, the Ministry of Agriculture and Rural Affairs, the Food and Agriculture Organization of the United Nations, the Ugandan Ministry of Agriculture, Animal Husbandry and Fisheries, and the Sichuan Provincial People's Government jointly held an expedition ceremony to see off the dispatched expert team.
China, FAO, and Uganda have implemented two phases of South-South cooperation projects in 2012-2014 and 2016-2018. A total of 47 Chinese experts and technicians went to the field to help Uganda improve food security and reduce hunger and poverty. The project has won good political, economic and social benefits, received written praise from the President of Uganda, and won the best poverty reduction case in the "First Global Poverty Reduction Case Collection Activity".
(Editors in charge: Jia Wenting, Liu Hui)
Share for more people to see

The news is published by EMEA Tribune & Peoples Daily Online