"China's development will bring more opportunities to the Asia-Pacific region"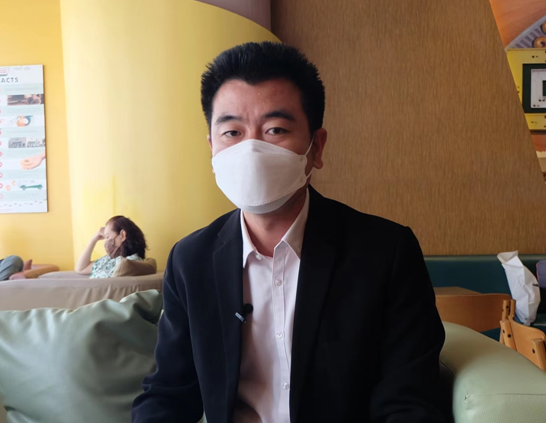 Pictured is Villen Phetchaon Paddy. Photo by Zhong Wenxing of People's Daily Online
The 29th APEC Economic Leaders' Meeting is being held in Bangkok, Thailand. In an interview with People's Daily Online on the afternoon of the 18th, Viron Phetchaon Paddy, director of the Thailand-China "Belt and Road" Cooperation Research Center, said that the Asia-Pacific economy is in a critical stage of post-epidemic recovery. China's development has brought more opportunities to economies in the Asia-Pacific region. The mutually beneficial and win-win industrial chain cooperation not only creates a "moat" for the Asia-Pacific region to deal with risks, but also brings stability and prosperity to the Asia-Pacific region. China's efficient manufacturing capacity and vast market will bring hope to the recovery of the global economy.
Villen Phetchaon Paddy said that this year marks the 10th anniversary of the establishment of the comprehensive strategic cooperative partnership between Thailand and China. China is Thailand's largest trading partner, the largest export market for agricultural products and the main source of foreign capital for Thailand. Thailand is a beneficiary of the "Belt and Road" initiative and a staunch supporter of the "Belt and Road" initiative.
Villen Phetchaon Paddy believes that the road of cooperation between Thailand and China is getting smoother. The investment of Chinese enterprises in Thailand has increased significantly. Chinese-funded enterprises have brought a variety of new energy vehicles to Thailand, which are very popular. Thailand supports the in-depth docking of the "Eastern Economic Corridor" and the Guangdong-Hong Kong-Macao Greater Bay Area, promotes cooperation in high technology, new energy, manufacturing, industrial chains and supply chains between the two countries, and contributes to the high-quality joint construction of the "Belt and Road" and the promotion of economic integration in the Asia-Pacific region to lay a solid foundation.
Villen Phetchaon Paddy specifically mentioned that when the global supply of COVID-19 vaccines was tight, only China was the only major country that really reached out to help Thailand. "President Xi Jinping made it clear that the new crown vaccine will be a global public product. The Chinese vaccine was a timely help to the Thai people at that time. This is the personal experience of the Thai people." Wiren Phetchaon Paddy said that Chinese vaccines are available all over the world Thousands of people have been saved, which just embodies the concept of a community with a shared future for mankind.
(Editors in charge: Yu Yang, Liu Hui)
Share for more people to see

The news is published by EMEA Tribune & Peoples Daily Online