China-Arab space theme event held in Dubai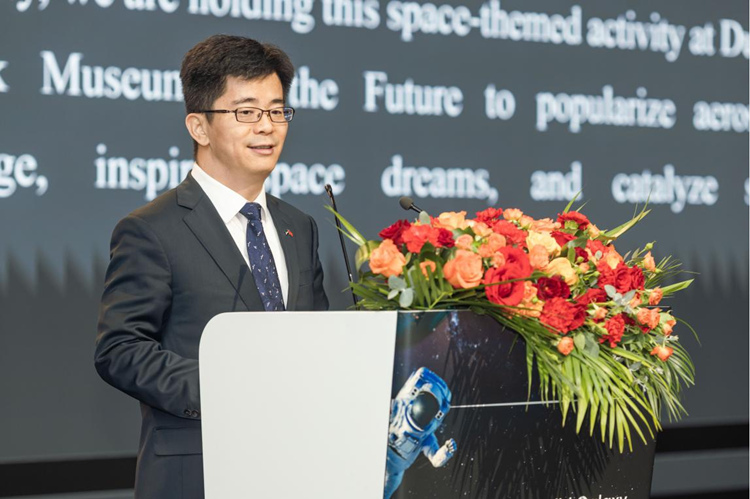 Consul General Li Xuhang delivered a speech. Photo courtesy of the Chinese Consulate General in Dubai
People's Daily Online, Dubai, November 22 (Reporter Guan Kejiang) The China-UAE aerospace themed event entitled "Bright Stars, Pursuing Dreams in Space" was held at the Dubai Museum of the Future on the 21st. Pictures and videos showing the achievements of China's aerospace science and technology in the new era were played at the event. China and Arab countries conducted online and offline space science and technology forums, space storytelling, and space dialogue and interaction.
Li Xuhang, Chinese Consul General in Dubai, said in his speech that the relationship between China and Arab countries, including the UAE, is on the fast track of development just like the aerospace industry between China and Arab countries. The great development of China's aerospace industry will provide more possibilities for wider and deeper international cooperation, and China-Arab cooperation in the aerospace field has broad prospects.
Wu Yanhua, deputy director of the China National Space Administration, said in a video speech that the China National Space Administration will continue to promote the development of China's space industry and cooperation with countries around the world including the UAE.
Hassan Ahmed, Director of Dubai Observatory, CEO of Dubai Space Investment Group, and Emirati Space Advisor, spoke highly of China's aerospace achievements and looked forward to more extensive cooperation between China and the UAE in the aerospace field.
(Editors in charge: Yan Meng, Chang Hong)
Share for more people to see

The news is published by EMEA Tribune & Peoples Daily Online