The Sixth China-South Asia Expo promotes win-win cooperation between China and South Asia
Xinhua News Agency, Kunming, November 24th Title: The 6th China-South Asia Expo promotes win-win cooperation between China and South Asia
Xinhua News Agency reporters Zhao Peiran and Zhao Cailin
"Opportunities everywhere", "big platform, many opportunities", "every time I come to gain a lot"… At the 6th China-South Asia Expo held in Kunming, Yunnan, many exhibitors from South Asian countries were full of praise. Since the first expo was held in 2013, the South Asian Expo has become an important platform for China and South Asian countries to promote economic and trade cooperation and cultural exchanges.
The influence of the exhibition continues to expand
In 2013, Anura, a tea merchant from Sri Lanka, signed up for the first South China Expo with a mentality of giving it a try in order to open up the tea market. At the exhibition, dealers in Beijing, Shanghai and other places extended olive branches to Anura, and the tea he distributed quickly opened up the situation in the Chinese market and gained a firm foothold.
After tasting the sweetness for the first time, Anura became a frequent visitor of the South China Expo, and he signed up early for each South China Expo. This year, he also invited Sri Lankan companies from different fields to participate in the exhibition, hoping to explore more business opportunities.
Along the way of the Sixth China-Africa Expo, the level of internationalization, specialization and marketization has become higher and higher, and the circle of friends has expanded and expanded. From the first session to the 6th session, the number of exhibition halls of the South China Expo has increased from 6 to 13, including 8 professional exhibition halls such as digital economy and green energy. The exhibition area has increased from 51,100 square meters to 130,000 square meters. The number of participating countries, regions and international organizations has increased from 42 to 80… At this year's South China Expo, the contracted investment of all parties exceeded 400 billion yuan; the off-site contracted investment exceeded 200 billion yuan.
Li Yi, deputy director of the Yunnan Provincial Department of Commerce, introduced that the South China Expo has broken through space restrictions. With the help of the "China South Expo Digital Platform", business representatives and audiences who are not present can visit the offline exhibition personally through VR technology; Exhibitors can also purchase, negotiate and sign electronic contracts through the cloud.
Today's South China Expo has developed from an exhibition focusing on small commodities and handicrafts with characteristics of various countries to a comprehensive international exposition integrating international trade, investment negotiations, and cultural exchanges.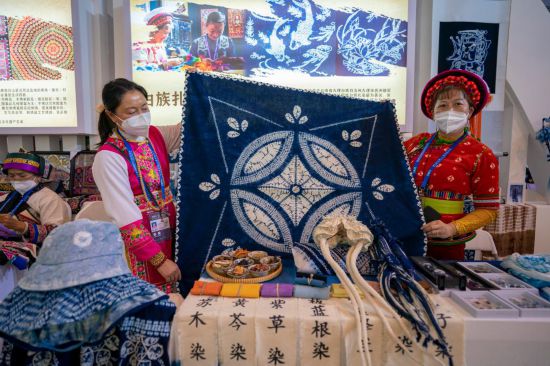 On November 20, the inheritors of tie-dyeing skills displayed their tie-dye works in the Tourism Culture Hall of the South China Expo. Photo by Xinhua News Agency reporter Chen Xinbo
Practical cooperation has yielded fruitful results
Since 2013, the China-Africa Expo has been successfully held for six sessions. A total of 89 countries, regions and international organizations have participated in the exhibition, and a total of 3,331 projects have been signed, with a contract value exceeding 4.3 trillion yuan, which has greatly promoted China and South Asia. National economic and trade exchanges and exchanges and cooperation.
"The cooperation between China and Bangladesh is the epitome of China-South Asia cooperation." Chinese Ambassador to Bangladesh Li Jiming said that Bangladesh is the first country in South Asia to sign an intergovernmental agreement on the "Belt and Road" with China. People and senior officials have also attended the South China Expo many times.
"In the first nine months of this year, the bilateral trade volume between China and Bangladesh has rebounded strongly against the background of the sluggish global economy, reaching US$21.35 billion, an increase of 21.2%. As China's zero-tariff treatment for 98% of Bangladesh's tax items takes effect, Bangladesh is expected to With further expansion of exports to China, delicacies such as Bangladeshi shad are expected to appear on the tables of Chinese people." Li Jiming said.
Open doors of opportunity and open channels of communication. Various parallel forums and activities held during the China-South Expo covered education, medical care, think tank cooperation and other fields. The "2022 Greater Mekong Sub-regional Economic Corridor Economic Corridor Governors Forum Kunming Consensus" and "Guidelines for the Application of RCEP Rules" and a series of conference results will promote more extensive exchanges and cooperation among relevant countries and regions.
"China and South Asian countries are friendly neighbors and development partners with unlimited potential for future cooperation." Assistant Foreign Minister Wu Jianghao said that the trade volume between China and South Asian countries will reach US$187.5 billion in 2021, nearly double that of ten years ago .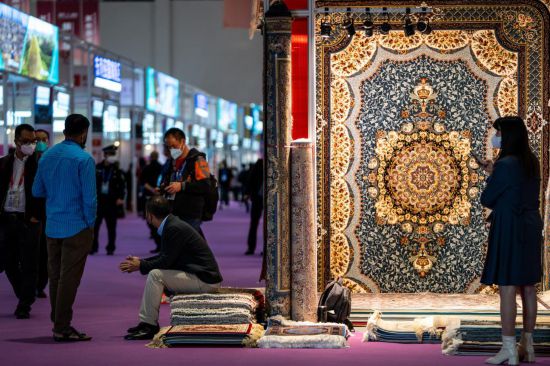 A corner of the overseas pavilion of the South China Expo was photographed on November 19. Photo by Xinhua News Agency reporter Hu Chao
Create a prosperous and bright future together
In 2019, Zeshan, a 34-year-old Pakistani electrical engineer, saw the continuous upgrading of China-Pakistan industrial cooperation and the large talent gap, so he voluntarily applied to Kunming University of Science and Technology to study for a doctorate. "There are opportunities everywhere in China, and I believe there will be unlimited possibilities here in the future."
Against the background of a century of changes and a century of epidemics, the importance of mutually beneficial cooperation between China and South Asian countries has become increasingly prominent, and the potential for cooperation is huge.
Walking into the exhibition hall of the South China Expo, the international freight exhibition area is particularly lively, attracting more than 300 domestic and foreign logistics companies to participate in the exhibition. The person in charge of a logistics company in Shenzhen said that China, South Asia and Southeast Asia are currently the fastest growing regions in the world. RCEP (Regional Comprehensive Economic Partnership Agreement) came into effect, China-Laos Railway and other major infrastructures opened, and the volume of trade in goods between regions surge. "The development of sea-road-rail combined transport products involving South Asia and Southeast Asia is the focus of our future attention."
CAEXPO welcomes overseas enterprises to "come in" and also helps high-quality Chinese enterprises to "go out". Yang Huichuan, vice president of China Biotechnology Co., Ltd., said that this exhibition hopes to show the production technology and products of Chinese blood products to the world, and also expects that the company's products will be sold to South and Southeast Asian markets in the future.
Yunnan, where the China-South Expo is held, has a long history of cooperation with South Asian countries. Wang Yubo, governor of Yunnan Province, said in his speech at the opening ceremony that Yunnan has accelerated the construction of China's radiation center for South Asia and Southeast Asia, and its exchanges and cooperation with South Asian countries have continued to expand. The total trade volume has tripled in the past 10 years, and the six pairs of sister city routes basically cover South Asian countries. The capital and an important tourist city, the China-South Asia Technology Transfer Center has facilitated the landing of more than 80 international projects. Currently, there are more than 2,000 South Asian students studying in Yunnan.
(Editors in charge: Yu Yang, Cui Yue)
Share for more people to see

The news is published by EMEA Tribune & Peoples Daily Online