"New Charm of Ancient Porcelain-Sino-Japanese Ceramic Culture Exchange Forum" was successfully held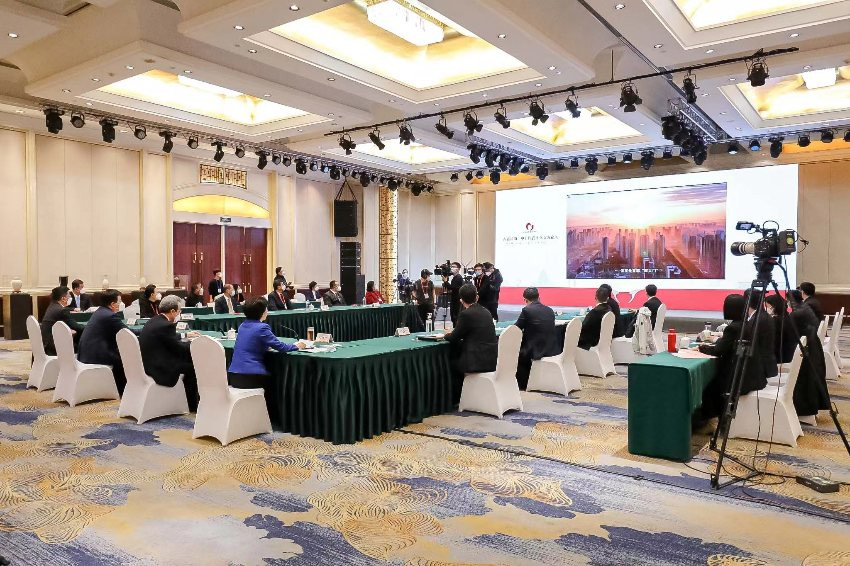 "New Rhythm of Ancient Porcelain-Sino-Japanese Ceramic Culture Exchange Forum" Baoding venue. Photo provided by the organizer
People's Daily Online, Baoding, November 25th (Reporter Yuan Meng) "New Rhythm of Ancient Porcelain – Sino-Japanese Ceramic Culture Exchange Forum" was held in Baoding and Kyoto on the 25th in the form of a combination of online and offline.
The forum was co-organized by the People's Government of Baoding City, Hebei Province, World Knowledge Publishing House, the Chinese Consulate General in Osaka, and Kyoto Prefecture, Japan. On the same day, Assistant Minister of Foreign Affairs Wu Jianghao, former Japanese Prime Minister Yasuo Fukuda, Vice Governor of Hebei Province Gao Yunxiao, Deputy Governor of Kyoto Prefecture Akira Yamashita, Executive Vice President of China-Japan Friendship Association and former Ambassador to Japan Cheng Yonghua, Party Secretary of Baoding Municipal Party Committee Xiaolong, Consul General Xue Jian of China in Osaka, Cui Chun, Chairman of World Knowledge Publishing House, Yoshiko Kishima, Minister of the Japanese Embassy in China, heads of relevant Chinese and Japanese departments, ceramic artists, enterprises and media representatives of the two countries attended the event. exchanges.
"Sino-Japanese ceramic exchanges have a profound historical accumulation. As early as the 2nd century BC, ancient Chinese pottery was exported to Japan." Assistant Minister of Foreign Affairs Wu Jianghao said in a video speech, "Ceramics are also important for the restoration of diplomatic relations between the two countries. The witness of the continued friendly relations. Standing at the new historical starting point of the 50th anniversary of the normalization of diplomatic relations, I hope that the two sides will review their original aspirations, inherit and carry forward the tradition of peace and friendship, and work together to build a Sino-Japanese relations."
Former Japanese Prime Minister Yasuo Fukuda said in his speech that Japanese porcelain is deeply influenced by China, and the exchanges between the two sides have been very popular since ancient times. The "Kyoyaki" in Kyoto Prefecture, Japan and the "Ding Porcelain" in Quyang, Hebei Province, China are both charming. ancient porcelain. "Porcelain crosses national boundaries and constitutes a bond of communication and a bridge of cooperation between Japan and China. It has far-reaching significance for the present and the future."
Gao Yunxiao, vice governor of Hebei Province, said that Hebei Province has actively carried out exchanges and cooperation with relevant places in Japan in the fields of economy, trade, agriculture, education, science and technology, and culture, and expanded the circle of friends of sister cities, which has achieved fruitful results. In accordance with the important consensus reached by the leaders of the two countries, we will take this forum as an opportunity to continuously enhance traditional friendship, deepen practical cooperation, and compose a new rhyme of ancient porcelain.
Cheng Yonghua, executive vice president of the China-Japan Friendship Association and former ambassador to Japan, believes that the friendly exchanges between China and Japan have a long history, and the deepening exchanges and cooperation between the two sides in various fields have brought important benefits to the two countries and their peoples, as well as the region and the world. Both history and reality have fully proved that as long as the two sides respect each other and abide by the oriental cultural value of "harmony without diversity", peaceful coexistence and win-win cooperation are absolutely possible. The two countries should persist in treating each other with sincerity and mutual trust; adhere to mutually beneficial cooperation to promote common development; strengthen people-to-people and cultural exchanges to promote the recovery of public opinion and the bond between the two peoples.
The forum gave a detailed introduction to the history and culture of porcelain in Kyoto, Japan, and Quyang, Hebei, China. At the same time, ceramic artists from China and Japan also displayed 9 specially produced themed works. In addition, Japanese ceramics expert Ha Matsutani, Professor Ohnogi Kaito of Kyoto University of Arts, Kondo Nao, expert of Kyoto Institute of High Burial Culture, Kyoto ceramic artist Taniguchi Masanori, Baoding City Quyang County ceramic art master Pang Yonghui, Baoding City Quyang County Chen Wenzeng Ding Porcelain Art Yang Lijing, the curator of the museum, Hou Wenquan, an expert from the China Ceramic Industry Association, Zhang Guangjun, an expert from Hebei Vocational College of Arts and Crafts, and many other ceramic art masters from China and Japan, heads of relevant departments, and enterprise representatives focused on the comparative appreciation of Chinese and Japanese ceramics and the development of modern ceramics. In-depth discussions were carried out on topics such as , and the future mutual cooperation in the field of ceramics between the two countries was prospected.
(Editors in charge: Liu Jieyan, Yang Mu)
Share for more people to see

The news is published by EMEA Tribune & Peoples Daily Online