Egyptian college students visited Angel yeast production base to learn about Chinese biotechnology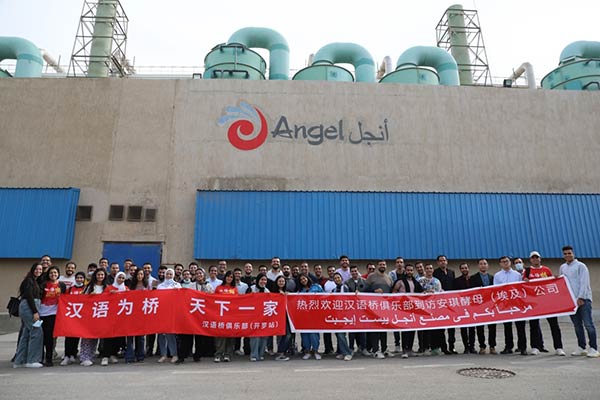 Students from Egyptian colleges and universities visited the production base of Angel Yeast and took a group photo. Photo courtesy of Chinese Bridge Club Cairo Station
People.cn, Cairo, November 18 (Reporter Huang Peizhao) On November 16, the series of activities "Learning Chinese and Entering Chinese Enterprises" hosted by the Cairo Station of the Chinese Bridge Club was successfully held. More than 50 outstanding student representatives from the Chinese Department of Egyptian universities such as Cairo University, Ain Shams University, and the Chinese University of Egypt entered the production base of Beni Suev Yeast, an Egyptian company of Angel Yeast, to understand the development of biotechnology in China and experience China company culture.
At the beginning of the activity, the students had an in-depth understanding of the fully automated production process of Angel Yeast through on-site visits. Angel's solutions for high-tech applications and environmental protection.
After visiting the factory workshop, the outstanding employee representatives of Angel Company told the students about their growth process with Angel in the conference room, shared the details of studying and training in China, and were full of happiness for the learning and training journey in China memories. They encouraged the students to work hard to learn Chinese well, and strive to go to China for themselves to experience China's culture and development.
Yan Yan, Quality Director of Angel Yeast Egypt, warmly welcomed the Cairo Station of Chinese Bridge Club and led the students to visit Angel Yeast Egypt. He briefly introduced the development of Angel Yeast and welcomed the students to join Angel Yeast after graduation. , work together, grow together, and contribute to the promotion of China-Egypt economic development and people's friendship.
The Cairo branch of the Chinese Bridge Club uses Chinese as the medium and takes talents as the center to build a bridge and platform for Egyptian young students to communicate with Chinese-funded enterprises. Since the launch of the "Learning Chinese · Walking into Chinese Enterprises" series of activities, they have been loved by Egyptian students, helping more Egyptian students to enter Chinese companies, get a close look at Chinese companies and Chinese technology, and feel the corporate culture and working atmosphere.
(Editors in charge: Ai Wen, Yang Mu)
Share for more people to see

The news is published by EMEA Tribune & Peoples Daily Online