Cartoon commentary: The United States takes advantage of the European energy crisis to reap the benefits: really a "good friend"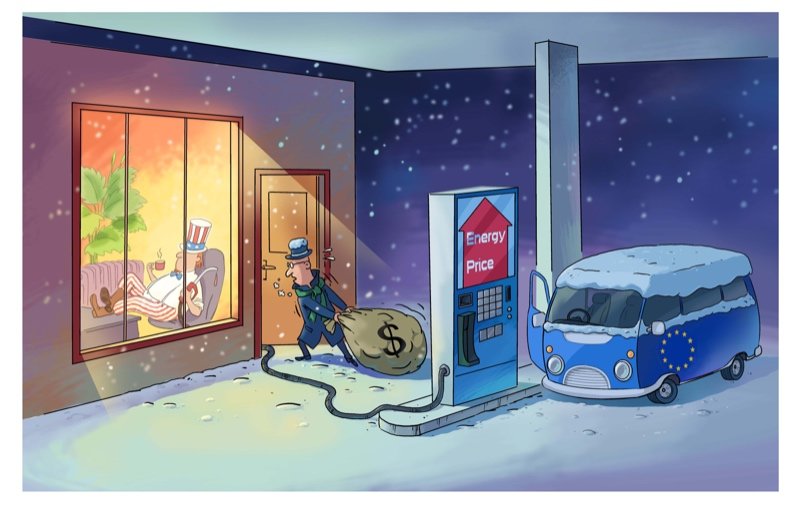 Comic author: Ma Hongliang (People's Daily Online copyright pictures, please do not reproduce without authorization.)
Affected by the Ukrainian crisis, European countries have fallen into an energy crisis due to the backlash of sanctions against Russia. Production costs have soared, prices have soared, and living costs have increased. The economy is facing risks and challenges.
While Europe is under tremendous pressure due to the energy crisis, the United States is taking advantage of the fire to reap the benefits and sell energy to European countries at high prices. Agence France-Presse previously quoted data from the U.S. Energy Information Administration as saying that the price of U.S. exported liquefied natural gas reached $12.76 per thousand cubic feet in July this year, compared with $7.23 in the same period last year, a year-on-year increase of 76.5%. It was as high as $14.37, a year-on-year increase of 119%.
The United States blatantly cheated its allies, causing many dissatisfaction. French President Macron once said: "We want to tell our American friends that you sell energy to domestic companies at the original price, but we have to pay four times the price. This is not friendship."
(Editors in charge: Cui Yue, Chang Hong)
Share for more people to see

The news is published by EMEA Tribune & Peoples Daily Online