The 3rd Sino-Italian Friendship Cities Cooperation Dialogue was successfully held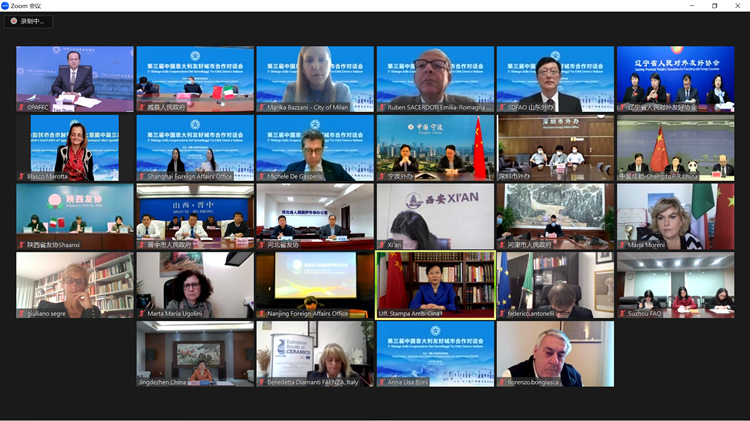 The third China-Italy Friendship Cities Cooperation Dialogue was held online. Photo courtesy of the Chinese People's Association for Friendship with Foreign Countries
People's Daily Online, Beijing, November 24th (Liu Dong) The third China-Italy Friendship Cities Cooperation Dialogue hosted by the Chinese People's Association for Friendship with Foreign Countries was successfully held on the 23rd in the form of cloud. ".
Yan Dong, Vice President of CPAFFC, Zheng Xuan, Chargé d'affaires ad interim of the Chinese Embassy in Italy, and Fidelik, Cultural Counselor and representative of the Italian Embassy in China attended the meeting and delivered speeches. Representatives from many provinces and cities of China and Italy and representatives of China-Italy friendship organizations participated in the meeting to discuss and share the experience of exchanges between sister cities.
Yan Dong said in his speech that exchanges between sister cities are an important force to boost the development of Sino-Italian relations. At present, the two sides have established 86 pairs of sister provinces and cities, and carried out fruitful exchanges and cooperation in the fields of economy, trade, culture, tourism, etc., which have played an important role in enhancing political mutual trust, deepening friendship between the two peoples, and promoting common development. . He proposed that sister city cooperation should focus on practical cooperation, promote people-to-people bonds, and carry forward the spirit of innovation. He encouraged Italian local governments and people in the economic circle to cooperate more actively with China, and welcomed Italian friends to board the express train of China's development.
In her speech, Zheng Xuan pointed out that both China and Italy are ancient civilizations with a long history of friendly exchanges. Since the establishment of diplomatic relations between the two countries more than 50 years ago, bilateral relations have developed steadily and the two countries are comprehensive strategic partners. In recent years, under the framework of the "Belt and Road Initiative", Sino-Italian cooperation in various fields such as economy and trade, science and technology, education, and culture has been continuously deepened and achieved fruitful results. Sino-Italian sister city cooperation is a bridge for the people of the two countries to enhance understanding and friendship, and an important way for good state-to-state relations to benefit the people of the two countries. The friendship between the two countries lies in the friendship between the people. China-Italy relations have long been at the forefront of China-EU relations, and exchanges between sister cities have contributed a lot.
In his speech, Federico affirmed the significance of the "2022 China-Italy Year of Culture and Tourism" to the exchanges between the two countries, and reviewed a series of wonderful exchange activities held by China and Italy under this framework. He mentioned that the "Origin of Italy-Ancient Roman Civilization Exhibition" held at the National Museum of China, as a key project of the "2022 China-Italy Culture and Tourism Year", attracted more than 220,000 visitors. In addition, there are also a variety of Italian exhibitions in Hong Kong, Shanghai, Tianjin, Xi'an, Chongqing and other places. Federico said that Rome, Italy is currently bidding to host the 2030 World Expo, and hopes to take this opportunity to continue to deepen exchanges and cooperation with China.
The provinces and cities in China and Italy are different in terms of area and population, and their industrial fields have their own characteristics, which are highly complementary. Representatives from Chinese provinces and cities from Shaanxi, Shandong, Shanghai, Nanjing, Chengdu, Jinzhong, Suzhou, Jingdezhen and Ningbo and representatives from Emilia Romagna, Treviso, Como, Venice, Milan, Faenza, Bologna Representatives of Italian provinces and cities from Florence and Italy spoke online one after another, introducing the situation of each province and city and the results of exchanges between sister cities, discussing various issues of deepening sister city relations, expressing the need to further promote cooperation between local governments, give full play to each other's comparative advantages, and strengthen mutual cooperation. People-to-people and cultural exchanges are a good wish to better support the stable and long-term friendly relations between the two countries. Representatives of Sino-Italian friendly organizations such as the Italy-China Friendship Association, the European Association for the Promotion of Cooperation with China, the Italian "Belt and Road" Research Institute, and the China-Italy Chamber of Commerce also participated in the dialogue.
The China-Italy Friendship Cities Cooperation Dialogue has been held alternately between the two countries since 2017, and has been successfully held three times so far. As a local cooperation mechanism project, the Dialogue is an important platform for exchanges and cooperation between the two countries in various fields.
(Editors in charge: Yan Meng, Chang Hong)
Share for more people to see

The news is published by EMEA Tribune & Peoples Daily Online