British Chinese community exhibition launched in the UK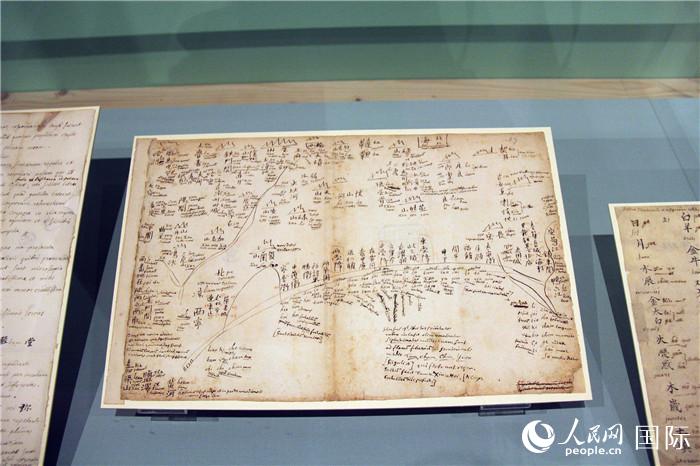 Shen Fuzong's hand-drawn map of China, reproduced from the Bodleian Library, showing the major cities and mountains and rivers of China. People's Daily Online reporter Xing Xueshe
People's Daily Online, London, November 18th (Reporters Xing Xue, Zhou Zhuobin) On November 18th, the exhibition "Total Story of Yinghua" Exploring British Chinese Community and Culture was officially launched at the British Library and public libraries around the UK. Through the display of handwritten letters, photos, historical documents, etc., it shows the active role played by the Chinese in British society for more than 300 years from the late 17th century to the present, and commemorates the profound impact that the Chinese in Britain have brought to the local area.
According to reports, since the first recorded Chinese, Shen Fuzong, arrived in the UK in 1687, by 2022, the number of Chinese in the UK has set a record of 400,000. The occupations of the Chinese are spread across all walks of life in the UK and have brought a profound impact on British society. Many Chinese have made outstanding achievements in the fields of science, medicine, law and politics, and have also made important contributions in the fields of culture and art.
The exhibition "Sharing Essence Together" is co-curated by Dr Ruxian Lu from the British Library and the Department of English Literature at the University of Liverpool, and Dr Alex Tickle from the Open University. Lu Ruxian believes that this exhibition tells the story of the survival and success of the British Chinese community, and allows the public to understand the contributions made by these groups to all walks of life in British society. Cao Jinyue, partner of Bizhen Accounting Firm, the sponsor of the exhibition, said that through this exhibition, the audience will learn about the history of more than 300 years and the cultural intersection and enterprising spirit reflected behind it.
The main exhibition hall of this exhibition is located in the British Library, and public libraries in more than 30 cities and towns across the UK are also holding a series of exhibitions of "Sharing the Essence" at the same time, and the exhibition will last until April 23, 2023.
(Editors in charge: Yu Yang, Liu Hui)
Share for more people to see

The news is published by EMEA Tribune & Peoples Daily Online