The Zongbayan-Hangji Railway in Mongolia was completed and opened to traffic
People's Daily Online, Ulaanbaatar, November 25 (Reporter Huo Wen) According to the news released on the official website of the Mongolian government, within the framework of the "New Revival Policy", the 226.9-kilometer Zongbayan-Hangji railway line in the East Gobi Province of the country lasted 8 It will be completed and opened to traffic within a month, laying the foundation for the opening of another new railway transportation channel between Mongolia and China in the future.
It is reported that after the railway line is put into operation, the annual import and export cargo capacity will increase by 20 million tons, the total amount of railway transportation will increase by 65%, and the distance to the international market will be shortened by 242 kilometers, saving transportation time and cost. Through this new railway channel, Mongolia can transport and export products such as Oyu Tolgoi copper concentrate and Tavan Tolgoi coal.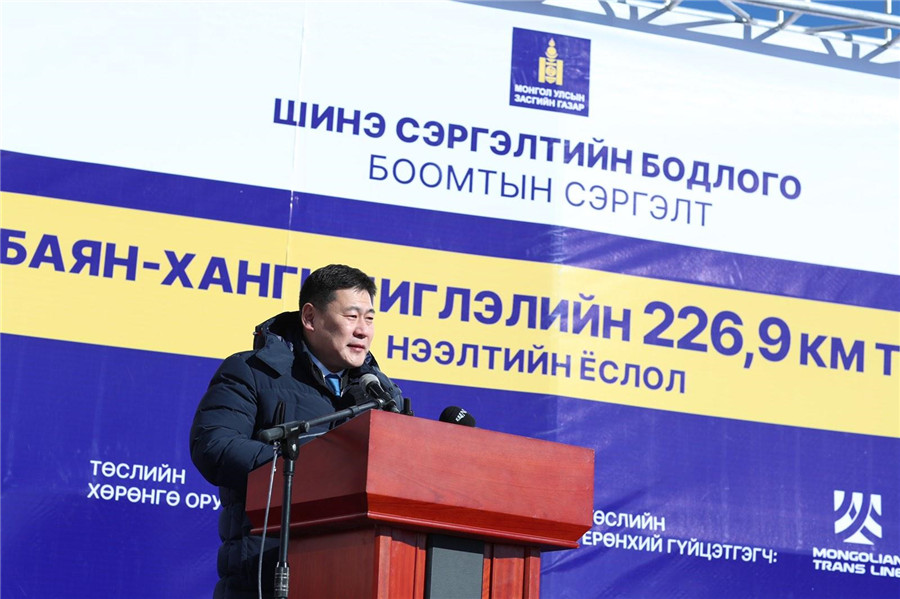 On November 25, 2022, Prime Minister Oyun Erden delivered a speech at the opening ceremony of the Hangji Port Railway. Image source: Mongolian government official website
Mongolian Prime Minister Oyun Erden said at the opening ceremony that if the railway is built at the speed of today, Mongolia's economic capacity is expected to reach 100 trillion tugriks (1 yuan is about 470 tugs) in the near future. Rick), the per capita GDP will exceed 10,000 US dollars, and the quality of life of the people will be greatly improved.
After the ceremony, Oyun Erden inspected the China-Mongolia railway connection section and the freight station at the border port. Two lines, broad gauge and standard gauge, have been built at the Hangji Port of this railway, creating conditions for the direct connection between the Mongolian Hangji and the Chinese Mandula Port with standard gauge.
In September this year, the 233.6-kilometer railway line from Tavan Tolgoi Coal Mine (TT Mine), Mongolia's first heavy-duty railway, to Gashusu Haitu Port was completed and opened to traffic. The Mongolia-China Gashusuhaitu-Ganqimaodu railway port will become the second new railway transportation channel connecting Mongolia and China after the Zamyn Uud-Erenhot port.
(Editors in charge: Liu Jieyan, Yang Mu)
Share for more people to see

The news is published by EMEA Tribune & Peoples Daily Online