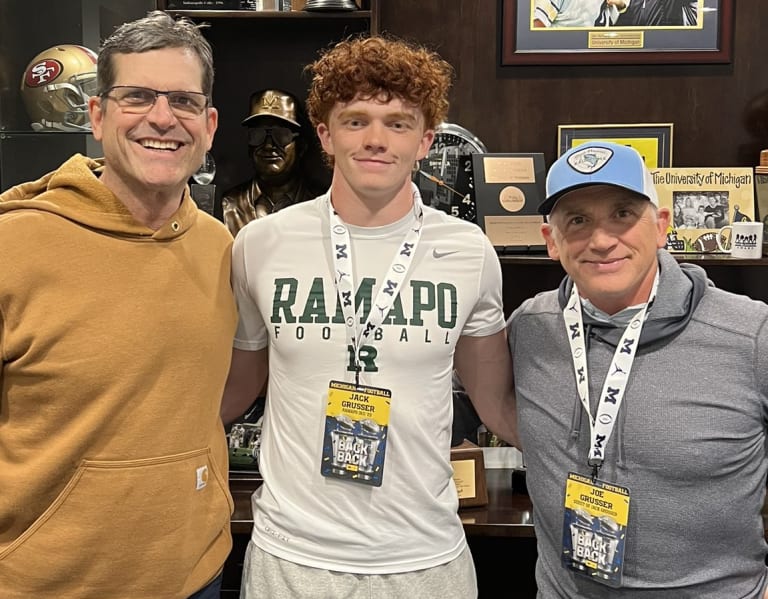 2023 quarterback Jack Grusser couldn't go wrong with the decision he was about to make. Whether he decided to stay with the prestigious Harvard to play football under a scholarship or take a preferred walk-on opportunity and pursue a childhood dream at Michigan, he knew he couldn't lose.
U-M won out in the end as the pull to his heartstrings was the call he decided to answer.
"Michigan was the place for me as it has been the school I've wanted to attend since I was a kid," Grusser told Maize & Blue Review. "My dad played hockey at Michigan and it's been the place I've wanted to be for as long as I can remember. The overwhelming support and persistence of the coaching staff recruiting me was also a big factor in my decision as well as the great academic offerings."
Some would ask why would a player give up a guaranteed scholarship and probable playing time in order to take on a non-guaranteed role in Ann Arbor.
For Grusser, the thought never really crossed his mind and he's not one to think about the what-ifs.
Instead, he views it as more of a bet on his future, putting the chips in his corner and letting it ride as he lives out his dream.
"I see the Michigan opportunity as a bet on myself," Grusser said. "I believe in myself and my ability to play the game of football as well as my ability to succeed in the classroom. As I said before as well, Michigan has been the place I've wanted to be forever. Playing the highest level of football and getting a great degree is very important to me."
Grusser's path to Ann Arbor has been full of twists and turns. From tragically losing a high school coach and not attending very many recruiting camps, he feels he is coming in a bit under-the-radar.
Regardless, his first priority once he arrives in Ann Arbor is to compete. Plain and simple.
"One of my immediate goals is to learn as much as I can from my teammates and coaches when I arrive," Grusser said. "Another goal of mine is to come in and compete. A lot of people don't know that I had to learn three offenses in four years of high school and that my coach had passed away in front of me on the field my junior year. Also not attending many recruiting camps delayed my recruiting process quite a bit. Through them all I just put my head down and worked on what I can control. I'm a competitor and look forward to the challenge ahead of me."
—
Discuss this article with our community on our premium message boards
Not a subscriber to Maize & Blue Review? Sign up today to gain access to all the latest Michigan intel M&BR has to offer
Follow our staff on Twitter: @JoshHenschke, @Berry_Seth14, @TrevorMcCue, @DennisFithian, @BrockHeilig, @JimScarcelli, @lucasreimink, @JaredHalus
Subscribe to our podcasts: Apple Podcasts, Google Podcasts and Spotify
Check out Maize & Blue Review's video content on YouTube
Follow Maize & Blue Review on social media: Facebook, Twitter, TikTok, and Instagram