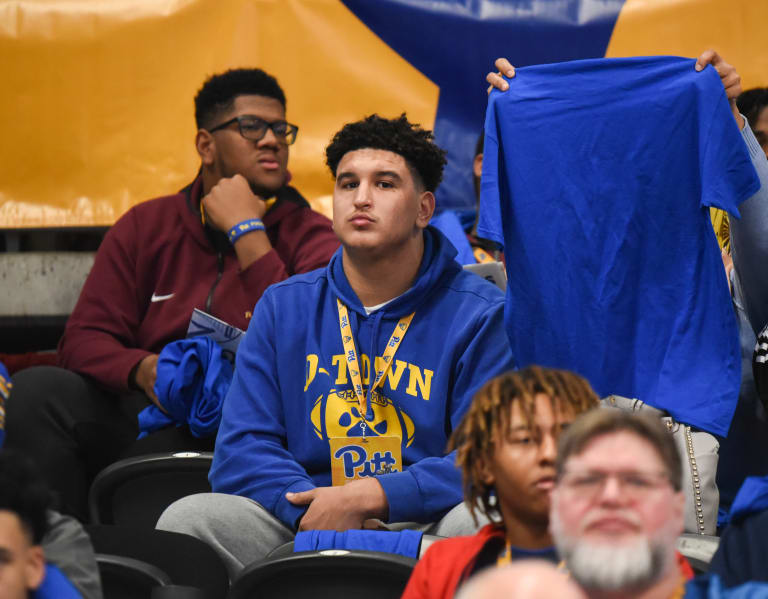 Adham Abouraya visited Pitt earlier this month, but it was not the first time he made the journey across the state. The 6'5″ and 285-pound offensive linemen from Downingtown East High School has been a frequent visitor to Pittsburgh in the past year. He took in Pitt's win over Rhode Island back in September, came back for a junior day visit in January, and returned for a third time two weeks ago.
"It was great," Abouraya told Panther-Lair.com after his most recent visit. "I always have a good time whenever I come there. I got to drive around the campus and city and it was really nice."
The third visit was the charm as Abouraya had seen enough and committed to Pitt last evening and announced his decision this morning via Twitter.
Abouraya has been keeping in contact with Pitt assistant coach Cory Sanders the most, but on his recent visit to Pitt, he got to spend more time with Pitt offensive line coach Dave Borbely. He got a better feel for how Borbely operates on the field.
"Getting a chance to see Coach Borbs coaching was nice and it was fun to see the offense and defense going at it," Abouraya said in a recent interview.
Abouraya chose Pitt over offers from programs like Cincinnati, Maryland, Rutgers, Syracuse, Temple, and West Virginia. He mentioned recently that Pitt was near the top of his list, but planned to hold off on making a college decision until May.
Abouraya's commitment continues an unprecedented run for Pitt on the recruiting trail this early in the calendar. Pitt is now up to 10 commitments in the class of 2024, and the class is currently ranked in the top-15 nationally according to Rivals.com.
Pitt has now landed six commitments in the month of March. At this time last year, Pitt only had one commitment in the class of 2023. Abouraya's decision also continues Pitt's hot streak, as he became the second commitment today joining Florida defensive linemen Zachry Crothers.
Abouraya is the second offensive linemen in the class, joining Erie prospect Jiavani Cooley. He is now the fifth prospect from the state of Pennsylvania along with Cooley, Juelz Goff, Jahsear Whittington, and Ty Yuhas.