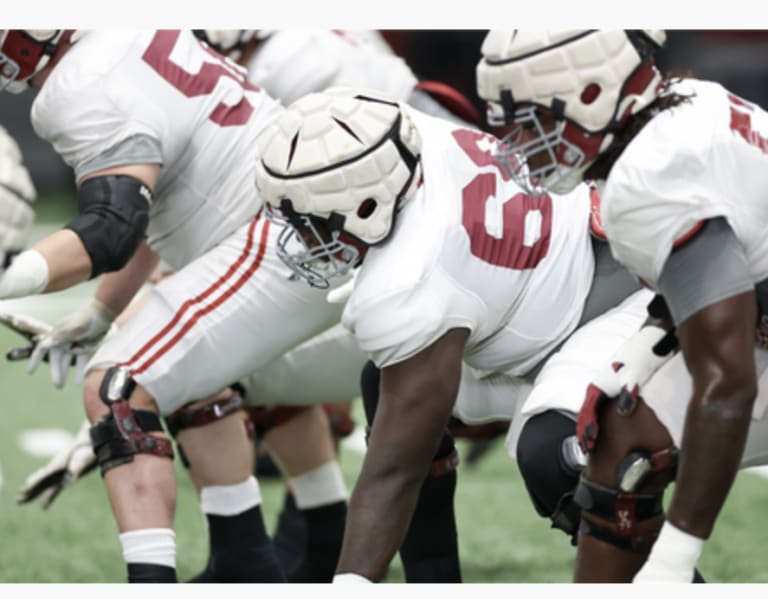 TUSCALOOSA, Ala. — With Alabama losing three starters along with five more to the transfer portal, questions of if the Crimson Tide would have enough talent on its offensive line began to grow louder.
Despite signing five offensive linemen, three of which were ranked in the Rivals250, Alabama was going to need someone to step up this season. Through 10 of Alabama's spring practices, redshirt freshman Elijah Pritchett has become the pleasant surprise so far, working with the first team at left tackle.
The 6-foot-6, 312-pounder joined the team last season but a torn pectoral over the summer sidelined him for most of the season. Despite appearing in just two games in 2022, fifth-year senior Darrian Dalcourt has already seen a different level of maturity from Pritchett.
"Usually when people translate from freshman or younger guy to older guy, you see them step up and dedicate more time for treatment, more time to working out, more time to diving in the playbook," Dalcourt said. "I think that's something he's done. He's stepped up, he's taken on a role really well and I'm really proud of him."
Pritchett's growth has earned him time as the first team's left tackle a spot many guess JC Latham would man when spring camp got underway. The blindside tackle was a major hole that needed to be filled as Tyler Steen entered the NFL draft after his lone season with Alabama.
According to Latham, he's also seen Pritchett develop into a solid lineman despite missing most of the season last year.
"He was injured, but I definitely see a lot of growth, see a lot of maturity," Latham said. "He has that kind of experience of just being in the Alabama culture, so I do expect a lot out of him coming into this spring and new season. So I'm really excited about him."
It's no surprise that Pritchett is finding success at the collegiate level as he was one of the blue-chip prospects from the 2022 recruiting class.
The Columbus, Georgia native was the No. 22 player in the class and the No. 1 offensive tackle in the nation as the former five-star racked up 26 scholarship offers. He would go on to thrive at the Adidas All-American Bowl where he faced off against the likes of LSU's Quency Wiggins and Florida's Chris McClellan.
While he's had a nice start to his spring, Alabama head coach Nick Saban noted that the redshirt freshman has more room to grow.
"He's done a good job," Saban said. "Elijah's getting better. I think he's one of those guys that's a young guy that needs to be able to sustain his intensity, not get penalties, do the little things right. But he has done a really, really good job this spring. He's played well, he's made a lot of progress and improvement and he's really competing hard for a position as a starter."