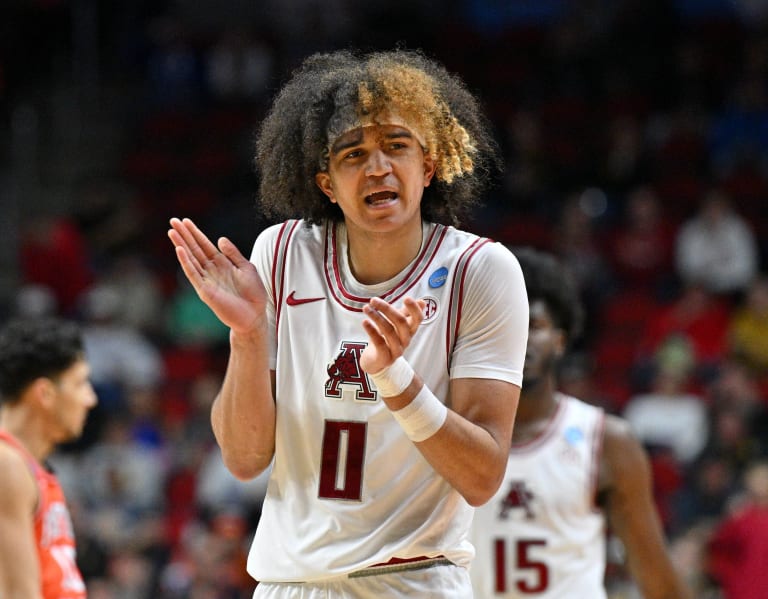 Arkansas star freshman Anthony Black announced Wednesday on ESPN's NBA Today that he is declaring for the 2023 NBA Draft. The five-star McDonald's All-American is commonly projected to be lottery pick in the upcoming draft.
"Thank you to Coach Muss and the entire staff," Black said in a tweet. "You believed in me from day one, and you poured everything you had into making me a better layer on the court, and a better person off of it."
A five-star McDonald's All-American, Black came to Arkansas as the No. 5 guard and No. 20 overall prospect in the 2022 class on Rivals.
"As I take my next step towards my dream and declare for the 2023 NBA Draft, I do so with so much gratitude for all of you for your support in helping me get to this point. I will continue to work as hard as I can to represent Arkansas in the best way and make you all proud."
The 6-foot-7 point guard filled up the stat column all season, averaging 12.8 points, 5.1 rebounds, 3.9 assists and 2.1 steals per game. The Razorbacks relied on Black throughout the season as a steadying force and primary ballhandler, and he answered the call, earning SEC All-Freshman honors.
Black put together one of the most successful single seasons in program history, finishing the 2022-2023 season as the only player in Razorback history to reach 450+ points, 180+ rebounds and 140+ assists in a season (460-182-141), according to HogStats.
The freshman also added 74 steals and 22 blocks. Black also broke Kareem Reid's freshman steals record, and set the freshman record for minutes played in a season at 1,253. That ranks fourth all-time in a single season for minutes played in program history.
While new rules have allowed players to sign with NCAA certified agents and retain eligibility to return to college basketball, that will not be the case for the Duncanville, Texas, native.
Recent mock drafts have him projected to go within the top 10 picks. NBC Sports and The Ringer both have him going No. 7 overall to the Washington Wizards, while ESPN has him going No. 8 overall to the Wizards.
Black joins fellow five-star freshman Nick Smith Jr., junior guard Ricky Council IV and junior guard Davonte Davis (retaining college eligibility) as the fourth Razorback to announce his intentions of entering the NBA Draft. Here is an updated look at the 2023-24 roster outlook for Arkansas.