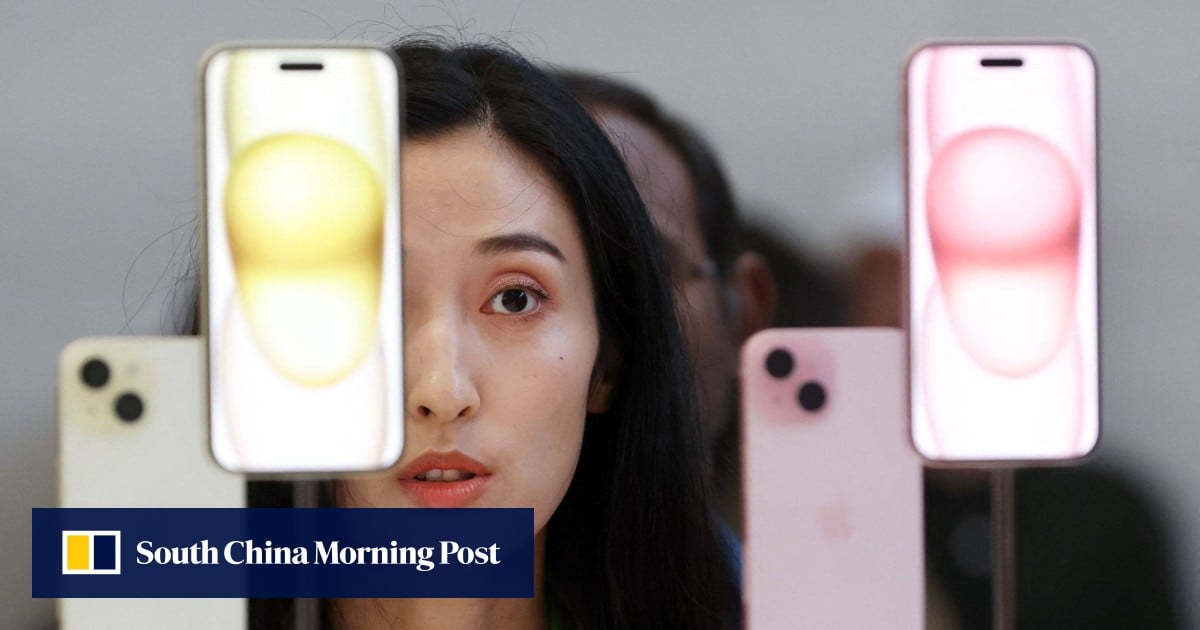 Apple's new iPhone 15 series has been warmly received in China with consumers rushing to snap up the latest iteration of the US tech giant's iconic handset via a variety of sales channels, staunching those voices that said Apple may struggle amid new competition from Huawei Technologies and a partial government ban.
Within the first 10 minutes of Apple's commencement of iPhone 15 pre-orders, the California-based firm's official mainland China website crashed amid high demand. Pre-order flow at Apple stores on e-commerce sites such as Alibaba's Tmall and
JD.com
has also been heavy. Alibaba owns the South China Morning Post.
The first batch of iPhone 15 Pro and Pro Max handsets available for pre-order on the official Apple Store on Tmall were snatched up in less than a minute after orders started being taken at 8pm last Friday, according to a report by local media outlet Jiemian.
A Tmall manager told Jiemian, which is affiliated with the Shanghai United Media Group, that they had to replenish stock nine times in under 30 minutes, adding that the premium Pro Max was the quickest-selling model.
Meanwhile, customers of Beijing-based
JD.com
had placed more than 3 million pre-orders on the Apple store on the platform for all four models of the iPhone 15 as of Monday, according to figures shown on its website.
The iPhone 15 was the most popular premium model on
JD.com
among handsets priced between 4,000 and 6,000 yuan (US$823) on Tuesday, followed by the iPhone 14 and iPhone 13, with one Huawei Mate 40 model coming in fourth.
Apart from traditional e-commerce sales channels, a raft of on-demand service platforms and other online services providers, including Meituan and
Ele.me
, have also seen a buying frenzy for the iPhone 15 series.
Food delivery giant Meituan, which partnered with more than
5,000
authorised Apple product retailers scattered across China, sold 200 million yuan worth of iPhone 15s in the first 30 minutes of business during last Friday's presales session, according to local media outlet National Business Daily.
Its rival, Alibaba-owned
Ele.me
, tied up with over 3,000 Apple retailers with a promise to deliver new iPhones to customers within 30 minutes once they can be officially shipped on September 22.
The strong sales come after the official launch of the iPhone 15 series in China last Wednesday, with four models starting at 5,999 yuan and featuring a range of design and function upgrades, including better cameras and new colours.
The premium Pro and Pro Max models, which retail in a range between 7,999 and 13,999 yuan, come with what the company has called "the industry's first 3-nanometre chip" – the A17 Pro – as well as the introduction of a titanium case for weight reduction and a switch to the more universal type-C charging cords.
In comparison, the Mate 60 Pro launched by Huawei, which is allegedly powered by a made-in-China chip using 7-nm technology, is priced at 6,999 yuan.
In addition, Apple is also facing a partial ban on government usage. While China's foreign ministry has denied any government law or regulation banning the use of iPhones, many government agencies have issued notices to their employees not to use the iPhone in government buildings.
Appetite for the high-end Pro Max models is robust – as expected – while demand for the two standard iPhone 15 models is "roughly on a par with last year", Kuo Ming-chi, analyst with TF International Securities, wrote in a post published on Monday.
The US tech giant is scheduled to open its eighth bricks-and-mortar store in Shanghai in early 2024, according to a report by Jiemian, bringing its total number of stores on the mainland to 46.
The news is published by EMEA Tribune & SCMP