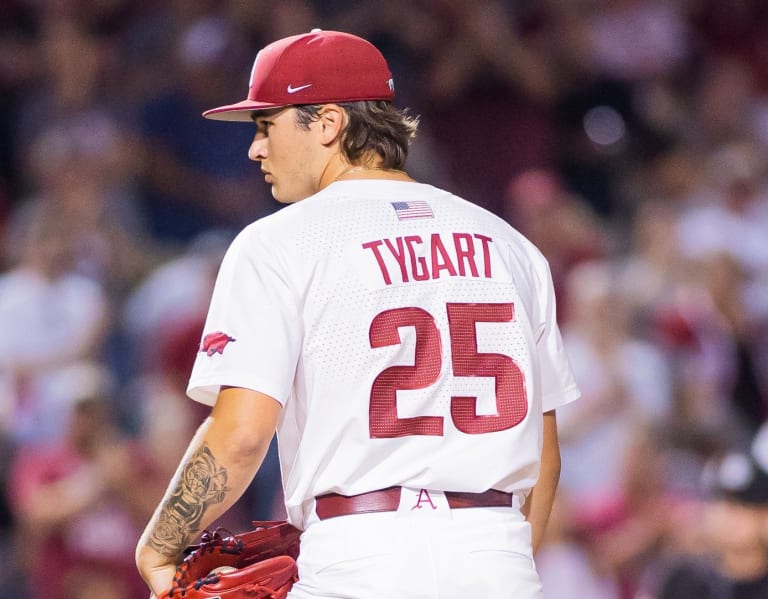 FAYETTEVILLE — He's back.
The long-awaited return of Razorback sophomore right-hander Brady Tygart is finally here, as Arkansas announced Friday that Tygart will get his first career start in Game 2 against the Texas A&M Aggies at Baum-Walker Stadium in Fayetteville.
After suffering a UCL sprain that sent a silence over Razorback fans during the March 1 matchup against Illinois State, Tygart is back on the 27-man roster and ready to make his SEC sophomore debut.
Tygart served as Arkansas' closer during his Freshman All-SEC campaign in 2022, when he made 24 relief appearances on the mound, posting a 3-4 record with a 3.82 ERA in 37 2/3 innings. He earned a team-best eight saves, including six multi-inning saves, and he struck out 51 on his way to Perfect Game Freshman All-American honors.
Entering this season, the 6-foot-2, 205-pound righty was named a second team preseason All-American by D1Baseball. Across just four appearances early in the season, Tygart gave up four earned runs on six hits in 6 1/3 innings pitched. He struck out 10 batters, walked one and earned a save prior to the injury.
For an Arkansas pitching staff that has been plagued by injuries — Jaxon Wiggins (torn UCL), Koty Frank (torn lat) and now potentially Dylan Carter — Tygart's return is a much-needed one.
"Brady's obviously a dude, and I know he's super excited and working really hard to get back to where he is right now," freshman right-hander Ben Bybee said Tuesday. "And I think it's huge for the staff, just that extra arm in the bullpen or wherever he might come in is huge."
While all of his appearances as a Razorback have been out of the bullpen, Tygart will get the start on Friday. The decision makes sense, as he will begin the outing with much less pressure than if he entered in a high-leverage situation late in a game. It's also to be expected for Tygart to be on some sort of pitch count for his first outing in nearly two months.
Fellow sophomore Hagen Smith said after Thursday's 7-5 win over the Aggies that he thinks Tygart is excited to get back on the diamond.
"I mean, it's huge for the pitching staff to get a guy like that back," Smith said. "He threw a ton of innings for us in high-leverage situations last year, so I mean I think everyone's pumped."
The original timeline for Tygart's injury was said to be five-to-six weeks, but it ended up being just over eight weeks for the righty out of Hernando, Mississippi. Head coach Dave Van Horn mentioned that Tygart could've thrown during last weekend's series at Georgia, but the team wanted to play it safe and give him an extra week of rest.
"Tygart, I mean he's probably about there," Van Horn said on April 20. "But we just feel like that we need to go one more week. So we went ahead and had him throw a bullpen yesterday and he threw really well.
"It's not like he's thrown a lot of pitches, but just feel like one more [week] and we'll be a little bit safer, and then next weekend we should get him out there. And that was the target date all along. So we thought, 'Let's just stick with it.'"
It's safe to say the entire Arkansas roster is ready to watch Tygart, who was one of the top closers in all of college baseball at one point last season.
"I'm really excited to see him pitch," first baseman Brady Slavens said Tuesday. "Really electric, really fun to watch play. Plays with some energy, some poise, and so it's great to have him back."
The Diamond Hogs and Aggies are set for a 6 p.m. CT first pitch at Baum-Walker Stadium in Fayetteville. The game will be broadcast on ESPNU.