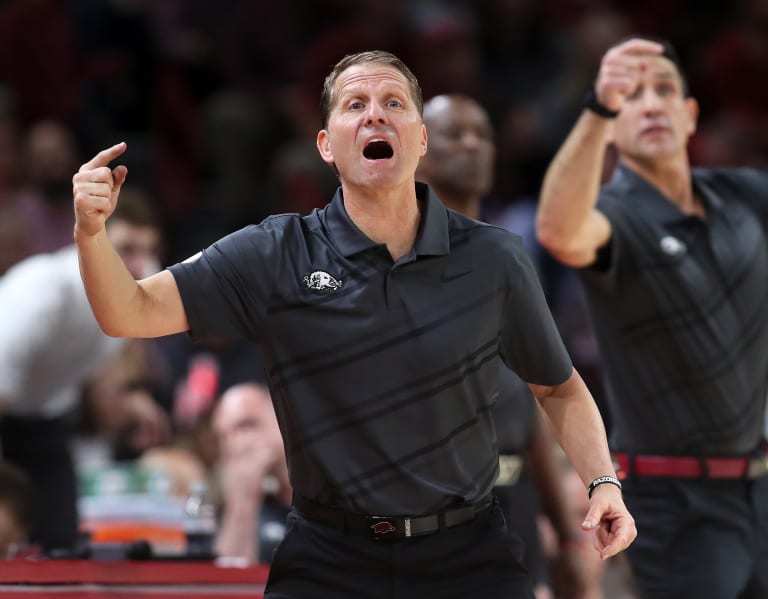 The 2022-23 Arkansas Razorbacks basketball season came to a close Thursday in a tough loss against a UConn Huskies team that is one game away from the national championship.
While there were high expectations entering the season, things were hampered by injuries and growing pains. Arkansas was under .500 in SEC play for the first time in the Eric Musselman era, but a third straight run to the Sweet 16 made up for it.
With arguably one of the most talented rosters in program history come the questions of who will go and who will stay. Known as one of the best at working the transfer portal, Musselman and his staff have already contacted plenty of transfers.
As for the current roster, decisions will be made over the coming weeks with some making the choice to go pro, others deciding to transfer out and some choosing to return for another season in Fayetteville.
HawgBeat will have updates whenever decisions are made, and until then you can check where the current roster stands:
Remaining Eligibility
Anthony Black – 3 years
2022-23 Stats (36 games): 34.8 min, 12.8 points, 5.1 rebounds, 3.9 assists, 2.1 steals, 3.0 turnovers, 0.6 blocks, 45.3 fg%, 30.1 3fg%
Black proved he can do it all as a 6-foot-7-inch point guard this year. He showed he can take over offensively if needed, place a beautiful pass from behind the arc right under the basket, play high-level defense and rebound. Although he put out a cryptic tweet Sunday, Black is a first-round NBA draft pick.
Recent notable mock drafts:
Bleacher Report – No. 10 overall to New Orleans Pelicans
The Ringer – No. 12 overall to New Orleans Pelicans
NBADraft.Net – No. 6 overall to Washington Wizards
Jordan Walsh – 3 years
2022-23 Stats (36 games): 24.4 min, 7.1 points, 3.9 rebounds, 0.9 assists, 1.1 steals, 1.0 turnovers, 0.5 blocks, 43.3 fg%, 27.8 3fg%
While also a five-star McDonald's All-American, Walsh didn't have the season he might have hoped for. He provided glimpses of the player he can become with his high motor, strong defensive prowess, ability to fight for rebounds and a high ceiling as an offensive player.
Walsh told reporters after the UConn loss that the coaches have put a plan together for him to be able to maximize himself this summer. While that could mean anything, it seems like another year of development would help Walsh move from a likely second-round pick up to the first-round potential he has if all goes well.
Recent notable mock draft:
Bleacher Report – No. 46 overall to Atlanta Hawks
Davonte Davis – 2 years
2022-23 Stats (35 games): 33.1 min, 10.9 points, 4.4 rebounds, 2.5 assists, 1.4 steals, 2.1 turnovers, 0.1 blocks, 41.5 fg%, 34.6 3fg%
Davis was the clear leader of the Razorbacks as a junior this season. He and Kamani Johnson were the only returning scholarship players, and Davis led by example on and off the court. His play in the NCAA Tournament was another example of how he can turn it on when the lights are the brightest.
An elite defender who also developed a strong 3-point shot this season, Davis could test the waters of professional basketball after his success this season. He won't be drafted, but he could choose to move on from college and likely pursue an NBA G-League opportunity.
Ricky Council IV – 2 years
2022-23 Stats (36 games): 34.1 min, 16.1 points, 3.6 rebounds, 2.3 assists, 1.1 steals, 2.1 turnovers, 0.3 blocks, 43.3 fg%, 27.0 3fg%
After transferring to Arkansas from Wichita State, Council had a second team All-SEC season with the Razorbacks. He averaged just over 16 points per game and really built his draft stock up. The athleticism and ability to perform at a high level in almost every facet of the game should get him a call from a team if he chooses to go pro.
Defensive struggles, lack of a consistent 3-point shot and struggles down the stretch offensively could've hurt his case, but he should still be a second-round pick at the least.
Recent notable mock drafts:
Bleacher Report – No. 27 overall to Utah Jazz
NBADraft.Net – No. 40 overall to Toronto Raptors
Trevon Brazile – 2 years
2022-23 Stats (9 games): 27.1 min, 11.8 points, 6.0 rebounds, 1.0 assists, 1.0 steals, 2.2 turnovers, 1.2 blocks, 48.1 fg%, 37.9 3fg%
Brazile's case is a tough one. Prior to his torn ACL in December, he was working his way into being a first-round draft pick. At 6-foot-10, he was proving his ability to thrive in the post, step out and hit a 3 and also defend the paint as a stretch-four.
With the injury, Brazile probably would be unable to participate in any type of full NBA workouts, including the combine. A return to college is probably in his best interest.
Jalen Graham – 1 year
2022-23 Stats (31 games): 9.4 min, 5.2 points, 2.3 rebounds, 0.5 assists, 0.4 steals, 1.1 turnovers, 0.5 blocks, 65.5 fg%
Graham was a common name thrown out to get more playing time when things weren't going right.
An elite scorer in the post, Graham had a few strong performances, most of which came in low-leverage situations. He struggled as a defender, and it was fairly clear that Musselman did not trust the Arizona State transfer to be a significant contributor. It would be surprising to see him stick around, and if he moves on, the options would be to graduate and transfer or seek out professional opportunities.
Makhi Mitchell – 1 year
2022-23 Stats (36 games): 20.1 min, 7.0 points, 5.3 rebounds, 1.1 assists, 0.9 steals, 0.9 turnovers, 1.4 blocks, 66.2 fg%, 100 3fg%
Early in the year, it looked like Makhi Mitchell could play a big role for Arkansas. He was playing elite defense not just in the paint, but also on the perimeter. His role faded throughout the year, and it likely won't be any bigger if he returned for another season.
Going pro is an option, but it would likely be overseas. Transferring is another possibility, but having transferred two times already would require him to get a degree to be a graduate transfer somewhere for his covid season.
Makhel Mitchell – 1 year
2022-23 Stats (30 games): 12.9 min, 3.6 points, 3.2 rebounds, 0.3 assists, 0.4 steals, 0.6 turnovers, 1.5 blocks, 63.5 fg%
Like his twin brother, Makhel's role for the Hogs faded down the stretch, though it was never as big as Makhi's anyway. The options are the same for Makhel, and he and Makhi will likely make the same decision, which will probably be to move on.
Joseph Pinion – 3 years
2022-23 Stats (26 games): 5.7 min, 2.4 points, 0.6 rebounds, 0.1 assists, 0.2 steals, 0.0 turnovers, 44.7 fg%, 38.2 3fg%
A four-star freshman, Pinion's job in his limited time on the court this season was to sit in the corner on offense and shoot whenever he touched the ball. He played decent defense when given the opportunity and he even displayed the ability to drive to the basket a few times.
Transferring is an option for Pinion, but I'd like to think the Razorback staff would want to keep him around given his ability to shoot the 3.
Derrian Ford – 3 years
2022-23 Stats (21 games): 3.8 min, 0.7 points, 0.5 rebounds, 0.4 assists, 0.2 turnovers, 40.0 fg%
Another four-star freshman prospect, Ford saw very little playing time this season. His path to becoming a significant contributor in the future at Arkansas doesn't seem very likely, which opens the door to transfer. Though he seems to bleed Razorback red, Ford had plenty of offers from other schools that might still want him, such as Auburn, Baylor, Florida, LSU and others.
Barry Dunning Jr. – 3 years
2022-23 Stats (16 games): 3.1 min, 0.3 points, 0.2 rebounds, 0.1 assists, 0.1 steals, 0.1 turnovers, 25.0 fg%
Of the three freshmen who didn't contribute much this year, Dunning seems to have the best chance to make an impact moving forward. He drew a lot of praise during the team's summer trip overseas, but he never really played meaningful minutes during the season. As always, transferring is possible, but Dunning might be one they want to keep around as a 6-foot-6 guard/forward that scored at a high level for McGill-Toolen Catholic HS in Mobile, Alabama.
Not Returning
Nick Smith Jr.
2022-23 Stats (17 games): 25.8 min, 12.5 points, 1.6 rebounds, 1.7 assists, 0.8 steals, 1.6 turnovers, 0.1 blocks, 37.6 fg%, 33.8 3fg%
Smith declared for the 2023 NBA Draft on Wednesday. Though his draft stock likely took a hit with his lack of production in the NCAA Tournament, Smith is still a lock to be a first-round draft pick. With that virtual guarantee of millions, there was almost no point for Smith to return for another year and risk another potential knee injury situation like he dealt with this season.
Recent notable mock drafts:
Bleacher Report – No. 6 overall to Indiana Pacers
The Ringer – No. 10 overall to Toronto Raptors
NBADraft.Net – No. 5 overall to Orlando Magic
Kamani Johnson
2022-23 Stats per game: 11.9 min, 2.2 points, 3.2 rebounds, 0.3 assists, 0.5 steals, 0.4 turnovers, 0.2 blocks, 47.6 fg%
Johnson ran out of eligibility after spending two full seasons in Fayetteville. An elite offensive rebounder, he never held a significant role for the Razorbacks, but his play in this year's Sweet 16 run was pivotal.
Incoming
Baye Fall – freshman
Fall is a five-star 6-foot-10-inch recruit out of Accelerated Prep in Lakewood, Colorado. He was named a McDonald's All-American, and he will compete for the West team in Tuesday's McDonald's All-American game on ESPN at 8 p.m. CT.
Layden Blocker – freshman
A four-star prospect out of Sunrise Christian Academy in Wichita, Kansas, Blocker is rated as the No. 6 point guard in the 2023 class on Rivals. He played for Bradley Beal Elite in the Elite Youth Basketball League (EYBL) last summer, when he averaged 15.8 points, 5.8 rebounds and 4.1 assists in 27 minutes per game.