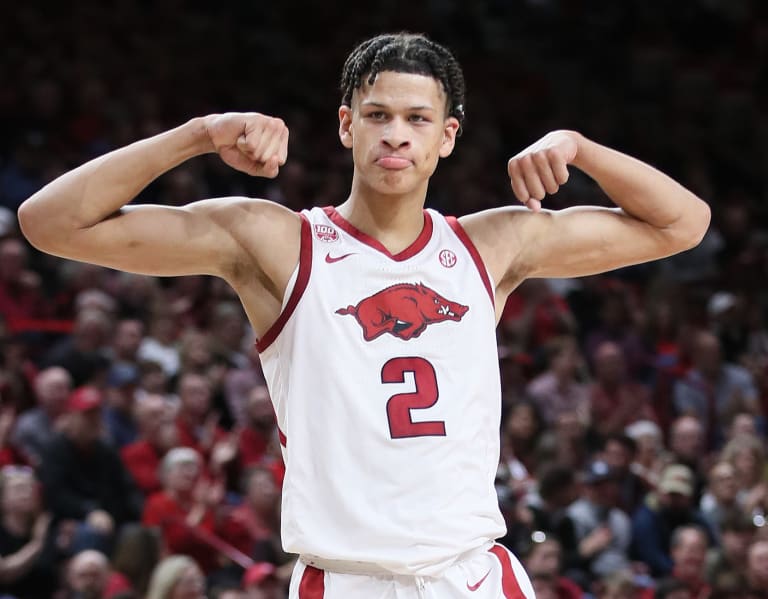 Arkansas forward Trevon Brazile announced Thursday that he will return for his junior season in Fayetteville.
The transfer from Missouri tore his ACL on Dec. 7 against UNC Asheville after playing just eight full games with the Hogs. During that eight-game span, he averaged 13.3 points, 6.5 rebounds and 1.1 rebounds per game.
Brazile was supposed to be a big part of Arkansas' team this year and that showed early on as he was a focal point in the early season offensive success. His loss was one that the team felt throughout the rest of the season.
At 6-feet-10-inches tall, Brazile's size puts him at an advantage on both sides of the court as he's a willing defender and a matchup nightmare in the paint. He put his athlecisim on display with plenty of highlight-reel dunks in his shortened season, including one that went viral during the Nov. 16 win over South Dakota State.
The native of Springfield, Missouri, was working his way into being a potential first round NBA Draft selection, but the injury derailed that possibility. The option of going pro was still on the table, but he is electing to prove himself with a potential full season in Fayetteville.
Brazile is the second Razorback to announce his future plans, as freshman Nick Smith Jr. revealed his intentions to enter the NBA Draft earlier Thursday. More announcements are expected in the coming days with some leaving, some staying and some transferring in.