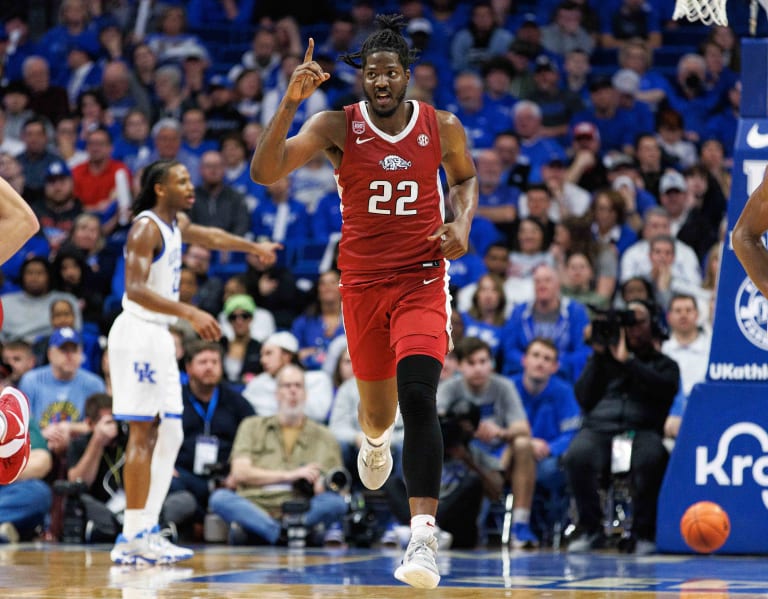 Arkansas senior forward Makhel Mitchell reportedly entered the transfer portal on Friday. Tobias Bass of The Athletic first reported the news.
Mitchell is the first Razorback to enter the transfer portal this offseason.
The twin brother of Arkansas forward Makhi Mitchell, Makhel played in 30 games for Arkansas and started nine. He averaged 12.9 minutes, 3.6 points, 3.2 rebounds and 1.5 blocks per game. Those numbers go up to 11.4 points, 10.0 rebounds and 4.7 blocks on a per 40 minutes basis.
Makhel finished fourth in the SEC in blocked shots per game, and he was second in the conference with 2.07 blocks per game in strictly SEC games. He blocked seven shots and had a career-high 13 rebounds on his birthday in an 81-70 win over Texas A&M on Jan. 31.
During Arkansas' 88-73 win at Kentucky on Feb. 7, Makhel had a season-high 15 points and he added five blocks in the contest.
There has been no word if Makhi will enter the portal, but it's worth noting that the pair have been together throughout their careers. They both went to Maryland their freshman year, transferred to Rhode Island for two seasons and then came to Fayetteville for one year.
Losing Mitchell opens up one roster spot to put the Razorbacks at 12 projected scholarship players for the 2023-24 season. More announcements are expected in the coming days/weeks, so stay tuned to The Trough premium message board and the HawgBeat Arkansas basketball roster tracker.