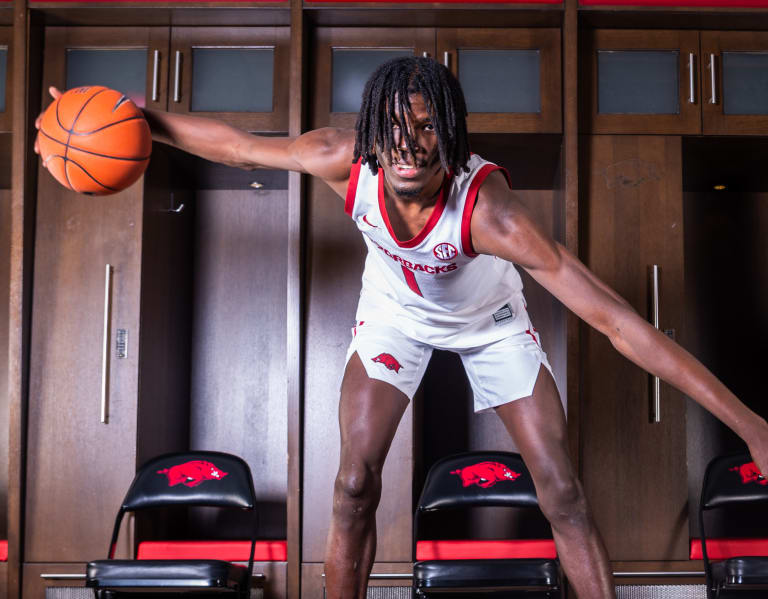 Arkansas 2023 five-star center signee Baye Fall will participate for the West team in the McDonald's All-American game at 8 p.m. CT Tuesday on ESPN.
Fall is the 18th Razorback signee to be named a McDonald's All-American and the fourth under head coach Eric Musselman. Arkansas freshmen Nick Smith Jr., Anthony Black and Jordan Walsh were all McDonald's All-American's in 2022.
Rated the No. 15 overall player and No. 3 center in the nation on Rivals, Fall is joined by four-star point guard Layden Blocker as the only two high school signees for Arkansas in the 2023 class.
Fall was also recently selected to play in the 2023 Nike Hoop Summit for the World Select team. The Nike Hoop Summit will take place Saturday, April 8, at the Moda Center in Portland, Oregon. The event features the top international athletes 19-and-younger facing off against the top American high school seniors.
The 6-foot-10 plays at Denver's Accelerated Prep, but he is a native of Dakar, Senegal. Fall is the third Razorback signee to play in the Nike Hoop Summit, joining Nick Smith Jr. and Anthony Black, who both played for Team USA last year.
During the 2022 summer, Fall was a standout at the National Basketball Players Association top 100 camp. He led the event in scoring with 14.9 points per game in seven games and he added a camp-leading 9.4 rebounds per game, including an event-best 4.9 offensive rebounds per game. Fall was also co-MVP at the 2021 Pangos All-American Camp.
The Southeastern Conference leads all conferences with six McDonald's All Americans — four Kentucky signees and one each from Auburn and Arkansas.
Here are details on how to watch the game, rosters and all 18 of the Arkansas signees that have been named McDonald's All-American's in program history:
Who: West team vs East team
When: Tuesday, March 29 at 8 p.m. CT
Watch: ESPN
Ricky Norton (1980)
Willie Cutts (1981)
Andrew Lang (1984)
Ron Huery (1986)
Todd Day (1988)
Lee Mayberry (1988)
Corliss Williamson (1992)
Darnell Robinson (1993)
Kareem Reid (1994)
Derek Hood (1995)
Glendon Alexander (1996)
Olu Famutini (2003)
Al Jefferson (2004)
Bobby Portis (2013)
Nick Smith Jr. (2022)
Jordan Walsh (2022)
Anthony Black (2022)
Baye Fall (2023)
Note: Joe Klein was a 1980 McDonald's All-American that signed with Notre Dame before transferring to Arkansas