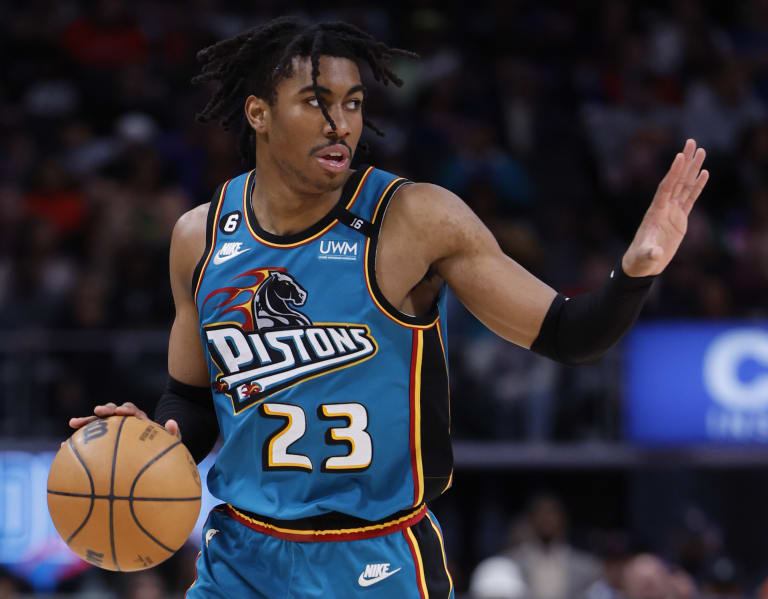 By my count, Matt Painter has 13 former Boilermakers that are playing professionally in a variety of leagues. From the NBA to the Chinese CBA, there are Purdue Boilermakers all around the globe.
There is no argument against the statement that Matt Painter gets to the professional level of this sport, whether it is the National Basketball Association or not, he has 14 Boilermaker Alumni that are making money playing basketball.
The NBA
Matt Painter has one lone representative in the NBA, currently, as E'Twuan Moore is listed as a free agent, currently.
That lone player? Rookie Combo Guard, Jaden Ivey was a top-five draft pick to the Detroit Pistons in the 2022 NBA Draft.
Jaden Ivey is having a standout season for Motor City. He has played in 71 games this season and scored 16 points per game, 4 rebounds per game, and 5 assists per game. Jaden only trails Paolo Banchero and Benedict Mathurin in rookie scoring for this season.
There was always a thought inside my head that Jaden would be an even better NBA player than a college basketball player, as the spacing in the NBA allows Jaden to use his skill set properly, dashing and cutting to the basket and more isolated plays for himself.
The G-League
Three former Boilermakers played in the NBA's G-League for the 2022-2023 season.
Trevion Williams plays for the Capital City Go-Go and has had a solid first season in the developmental league. In 29 games, Tre averaged 8 points per game, 8 rebounds per game, and just over 2 assists per game, playing as a forward/center.
Dakota Mathias, who has spent time on NBA Rosters, as well as playing in the G-League had another successful season for the Memphis Hustle. The sharpshooter averages 15 points per game, 4 rebounds per game, and 3 assists per game, being one of the more consistent G-League Players. He has recently been on a two-way NBA contract, where he can float back and forth between the Hustle and the Grizzlies.
Lastly, former Boilermaker and St. John's Alumni, Aaron Wheeler, is playing for the Windy City Bulls. Wheeler averages just under 8 points per game and 4 rebounds per game, playing in a stretch four role for the Bulls.
Foreign Leagues
Sasha Stefanovic recently announced his retirement from basketball, but he did play in the Serbian league this year. he appeared in 13 games and scored 1 point per game.
Isaac Haas has found himself playing In China for the Beijing Beikong. International life has not been kind to the 7-2 giant, as he is only averaging 5 points per game and 4 rebounds per game.
Everyone's favorite Croatian, Sandi Marcius spent four years at Purdue before using his final year of eligibility at DePaul, regardless of where he ended, he did graduate from Purdue and is one of Matt Painter's alumni playing in the pros.
Sandi is playing in the Italian Serie A2 Basketball League for the Blu Basket Gruppo Remer Treviglio. The big man is averaging more points and rebounds than he ever did during his college career, scoring 7 points per game and corralling 7 rebounds per game. His team is currently in 2nd place in the "green group".
Matt Haarms and his wonderful hair have taken their talents to Germany, after spending a year at BYU, the shot-blocking expert had plenty of suitors for foreign leagues.
He is playing for the Fraport Skyliners, who has admittedly struggled pretty heavily, as they are only 6-20. Haarms is averaging 7 points per game and 4 rebounds per game for the Skyliners.
Vince Edwards is playing in one of the most competitive foreign leagues, the French Jeep Elite. After making his run in the G-League for a few years, he chose to go overseas, where he is probably making more money than he was in the developmental league.
Edwards is playing solid ball for the BCM Gravelines, scoring 9 points a contest, grabbing 3 rebounds per game, and averaging nearly 2 assists per game. The Gravelines currently are 13-15.
Not only is Vince Edwards playing for the Gravelines, but so is a longtime pro, JaJuan Johnson. Johnson, from one of Painter's earliest recruiting classes, is averaging 15 & 4 for the Gravelines.
Carsen Edwards has put his NBA dreams on hold to play in the premier foreign league, the Euroleague, where many NBA players develop from. Carsen is averaging right at 10 points per game for the Fenerbahce Beko. I still am amazed that he could not stick in the NBA right away with his quick dribble and scoring ability, especially if coming off of the bench.
Carsen is a teammate with some familiar names. He is playing with Giannis' brother, Kostas Antetokounmpo, for example. As well as Nigel Hayes (Wisconsin), Tyler Dorsey (Oregon), and Jonathan Motley (Baylor).
His team is currently 19-4.
While Kelsey Barlow ended his career at Illinois-Chicago, I think most Purdue fans still love to claim Barlow and his outgoing personality.
Kelsey is playing in the Bulgarian League, where quite frankly, he is dominating. He averages 17, 5, and 5 for his BC Beroe Stara Zagora team.
Lastly, Nojel Eastern who transferred to Howard for his final year, but never played, is playing in the Mexico Basketball League, where his big body dominates opposing guards.
Nojel is averaging 18, 7, and 4 for the Rayos de Hermosillo.